mytest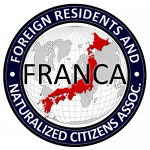 Hi Blog.  Here's something quite odd.  We have the GOJ saying that the population of Japan is rising (ii n ja nai?).  Then they make it clear that the figures doesn't include foreign residents.  Now why would any government worth its salt decide to exclude taxpayers thusly?  Aren't registered foreign residents people too, part of a "population"?  Arudou Debito
==========================
Population rises 1st time in 3 years
The nation's population grew for the first time in three years to 127,066,178 in the year to March 31, up 12,707 from a year earlier, the Internal Affairs and Communications Ministry said Thursday.
The figure was based on resident registrations at municipal government offices and does not include foreign residents.
Over the period, there was a fall in the natural population–the number of births minus the number of deaths in the year through the end of March–of 29,119. However, the figures showed an increase of 41,826 due to social factors such as the rise in the number of repatriates and newly naturalized citizens.
The survey also showed that the population in Tokyo increased by 100,460, breaking the 100,000 mark for the first time since the government began taking such surveys in 1968 and reflecting the trend toward a concentration of the population in large cities.
The number of births increased for two consecutive years to 1,096,465, but was offset by the number of the deaths, which went up by 44,410 to 1,125,584. The natural decline was the second for the nation, following the 2006 survey.
Meanwhile, the so-called social population, which saw a decline of 12,297 in the year through March 31, 2007, rose by 41,826 for this year. The ministry believes that the social population increase can be attributed to an increased number of people returning home after their companies closed their offices overseas. Officials noted therefore that the overall trend of a declining population had not changed.
(Aug. 1, 2008)