mytest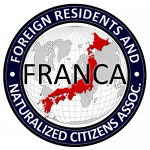 UPDATES ON TWITTER: arudoudebito
DEBITO.ORG PODCASTS now on iTunes, subscribe free
Hi Blog.  I would like to launch a new type of campaign, something I will call "Pinprick Protests", an activity done on the individual level to protest injustice and unfair treatment in Japan.  Less visible than picketing and petitions, it is no less effective over time:  Enough individual protests nationwide, and it becomes "mendoukusai" for the authorities to have to deal with the issue anymore, and things shift for the better as GOJ attitudes and enforcement mechanisms change.
Case in point:  I received a good news from a translator yesterday in Debito.org's comments section:
=========================
JayIII Says:
April 22nd, 2010
I work as a translator and often get jobs from the local government and I thought I would share a little bit of good news.
A request came across my desk today for updating the english phrasing recommended for hotels to display for foreign guests. The Japanese was changed from requiring "foreign visitors" and "display their passport or gaijin card" 外国人宿泊者 and 旅券もしくは外国人登録証明書を提示 to
Non-Japanese visitors without a permanent Japanese residence and display their passport 日本国内に住所を有しない外国人宿泊者 and 旅券を提示
So it's one little step in the right direction.
=========================
Yes, quite. The law, when it took effect on April 1, 2005, said that NJ guests who had no addresses in Japan (as in tourists) would have to show their passports at all hotels in Japan (this was an "anti-terrorist and contagious disease measure", problematic in itself; Japanese guests, then as now, need show no ID). The NPA and the MHLW then, deliberately and repeatedly — despite articles in the media, an inquest by the US Government, and various "pinprick protests" by individuals at check in who are aware of the letter of the law — bent the laws to say that all NJ (as in "foreign guests"), must be IDed, and some hotels (such as Toyoko Inn) used this as an excuse to refuse NJ customers entry. As determining who was a "foreign guest" was a matter of physical appearance to many hotels, this led to nationwide racial profiling, inconvenience, and insult (as not all people who look NJ are tourists, naturally).  All sponsored by authorities refusing to enforce their own laws properly.
Now, it seems, cops and ministries are finally giving hotels the correct information, and no longer bending the laws to target all NJ. Good. Pity it only took five years for the GOJ to knock it off.  And I bet it's not a universal thing at hotels yet, so expect a bit more harassment at check-in.
Download the hotel laws here and continue the "pinprick protests" whenever necessary.  It works.  Over time.  What it takes is informedness, tenacity, and patience.   And the will to believe that we are not merely "foreign guests", but rather people who have rights in Japan and the will to claim them.  For it is people who do NOT protest who get walked all over by the powers that be, as this case study demonstrates.
More suggestions for "pinprick protests" later.  Arudou Debito in Sapporo