mytest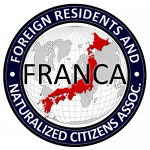 UPDATES ON TWITTER: arudoudebito
DEBITO.ORG PODCASTS now on iTunes, subscribe free
Hi Blog.  Here's something shocking today.  I heard about this passim from UN Rep Bustamante on March 23 when he was in town asking about migrant worker issues.  I had heard nothing since then.  It took a rally the other day for it to make the news.  Anyone else see anything in the domestic press?  This sort of thing out to be reported much more widely.  Wonder where the investigation into this (if any) is going.  Arudou Debito in Sapporo
//////////////////////////////////////////
50 rally for investigation of deportee's death
Compiled from Kyodo, Staff report
The Japan Times, April 13, 2010, Courtesy of GS
http://search.japantimes.co.jp/cgi-bin/nn20100413a3.html
The Japanese wife of a Ghanaian who died while being deported from Japan last month and some 50 supporters took to the streets Monday in Tokyo to demand a thorough investigation.
Holding a banner that read, "Uncover the truth behind the death of Mr. Suraj during his deportation," the protesters, including Ghanaians living in Japan, marched through Roppongi shouting "We want justice."
Although a police autopsy on Abubakar Awudu Suraj, 45, reportedly failed to pin down the cause of death and found no traces of violence, his wife and her supporters believe the death was probably caused by immigration officers.
The officers accompanied Suraj aboard a flight to Cairo from Narita International Airport on March 22 when he was being deported for illegally staying in Japan.
According to the police at the airport, Suraj suddenly turned violent aboard the plane, prompting the Japanese officers to restrain him. He then went limp and died…
Rest of the article at
http://search.japantimes.co.jp/cgi-bin/nn20100413a3.html