mytest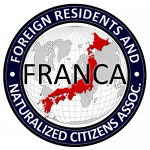 UPDATES ON TWITTER: arudoudebito
DEBITO.ORG PODCASTS now on iTunes, subscribe free
BUSTAMANTE PRESS CONFERENCE MARCH 31, 2010, UNITED NATIONS INFORMATION CENTRE
By Arudou Debito, exclusive to Debito.org
(Debito.org) TOKYO MARCH 31, 2010 — Dr Jorge A. Bustamante, United Nations Special Rapporteur for the Human Rights of Migrants, gave an hourlong press conference at United Nations Information Center, United Nations University, Japan.
Dr Jorge Bustamante gives a press conference in Tokyo.  Photo by Arudou Debito
Assisted by the International Organization for Migration and Japan's civil society groups, Dr Bustamante concluded nine days, March 23 to March 30, of a fact-finding mission around Japan, making stops in Tokyo, Yokohama, Hamamatsu, and Toyoda City. He met with representatives of various groups, including Zainichi Koreans, Chinese, Brazilians, Filipinos, women immigrants and their children, "Newcomer" immigrant and migrant Non-Japanese, and veterans of Japan's Immigration Detention Centers.
He also met with Japanese government representatives, including the ministries of Education, Foreign Affairs, and Justice. He also met with local government officials in Hamamatsu City (including the Hamamatsu "Hello Work " Unemployment Agency), the mayor of Toyoda City, and others.
He debriefed the Japanese Government today before his press conference.
The press conference can be heard in its entirety, from Dr Bustamante's entrance to his exit, on the DEBITO.ORG PODCAST MARCH 31, 2010, downloadable from here:
[display_podcast]
Duration: One hour five minutes.  Unedited.  I ask a question around minute 40.
Dr Bustamante's official read statement, also audible in the podcast, is available in its entirety on Debito.org in the next blog entry.
Arudou Debito, reporting for Debito.org in Tokyo.
March 31, 2010
ENDS