mytest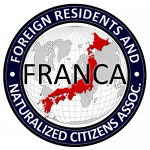 UPDATES ON TWITTER: arudoudebito
DEBITO.ORG PODCASTS now on iTunes, subscribe free
Hi Blog.  The Japan Times Community Page put out an interview with an ultranationalist, Sakurai Makoto, who first came to my attention during his push to send Calderon Noriko "home" with her visa-overstaying parents last year.  He strikes me as one of those shy guys who compensates with a flamboyant public image.  Pity he's using that image to promote ignorance and bigotry.  Excerpt follows focusing on the interview, laying bare how inconsistent the actual mindset is.  It's good to know what the other side is thinking.  What doesn't frustrate you beyond belief only makes your arguments stronger.  Arudou Debito in Sapporo
////////////////////////////////////////////
THE ZEIT GIST
Sakurai: a very dapper demagogue
The man behind 'Japan's most dangerous hate group'
By DAVID McNEILL
Japan Times Tuesday, May 18, 2010
Full article at http://search.japantimes.co.jp/cgi-bin/fl20100518zg.html
Excerpt: Why such relentless invective?
"To tell you the truth, Japan is extremely bad at dealing with foreigners," he says. "Until about 100 years ago, before the Meiji Restoration, there were almost no foreigners here. We've only been dealing with them for a little over a century. But with globalization we understand that a lot of Japanese people go abroad, and that naturally a lot of foreigners now come to Japan. We realize we can't prevent that. But they should obey Japanese rules."
So he's not actually against foreigners coming to Japan, just those who break the law?
"No, we oppose immigration. The (ruling) Democratic Party of Japan has proposed allowing 10 million people to come here. According to the ministry of health, by 2050 there will be 80 million Japanese here — that's a fall of over 40 million. By 2100 it will be 20 million. If it continues like this our working population will disappear. So people are wondering what we should do. Should be accept millions of foreigners? I don't think so."
What about foreigners who have come here, married Japanese citizens, who pay taxes and have children. Would you send them all home?
"That's different. Those people weren't invited to come here by the government. The government wants millions of people to come in and work like robots in industrial jobs. They can't treat foreigners like robots. Are you going to treat them as citizens? The DPJ is not talking about this. They should be allowed in step by step. It should be deliberated."
Then you support a policy of phased, planned integration?
"If we're saying, 'OK, let's set up schools for these people to help them blend into our society,' I can understand that a little. But that's not happening. The government is simply saying, 'Come to Japan as workers.' There's no debate."
OK, so let's say there is a debate. Let's say the government does deliberate this and create a policy that will allow phased mass emigration of 10 million people to come here. Would that be acceptable?
"No, I oppose such a move. Look at the Scandinavian countries. They let immigrants in and it resulted in cultural friction. You can't let people in who are from different religions and cultures. It creates too many problems."
Of course there are some problems, but many societies have successfully integrated large immigrant populations. What about Britain?
"Britain is getting what it deserves (jigo jitoku) because it was a colonial power. All those people it colonized and suppressed are coming back."
Didn't Japan do the same to Korea?
"No, that wasn't colonization; it was an annexation (heigo). The Koreans invited us to come to their country."
Rest of the article at http://search.japantimes.co.jp/cgi-bin/fl20100518zg.html