mytest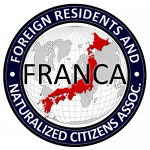 UPDATES ON TWITTER: arudoudebito
Hi Blog.  Lawyer Colin Jones has hit us with a one-two punch this week in the Japan Times — first by explaining what Christopher Savoie's arrest and recent release for "kidnapping" his own kids has brought to light, and now about how the domestic media is reacting to it.  Predictably, portraying  Japanese as perpetual victim, NJ as perp and victimizer.  I've mentioned the biased NHK report on the subject before (so does Colin below in his article). Now, here's a deeper roundup and some crystal-balling about how this might affect NJ particularly adversely, as wagons circle and the GOJ protects its own. Excerpt follows. Arudou Debito in Sapporo
===========================
Tuesday, Oct. 20, 2009
Foreign parents face travel curbs?
By COLIN P. A. JONES
http://search.japantimes.co.jp/cgi-bin/fl20091020a1.html
Excerpt:
…While Japan signing the Hague Convention is certainly a desirable goal, it is probably convenient for everyone on the Japanese government side of the issue for foreigners to be the bad guys. That way they appear to be dealing with a "new" problem, rather than one that they have already ignored for far too long. From there, the easiest way to prevent further abductions is to require foreign residents seeking to exit Japan with their children to show proof that the other parent consents to the travel. This requirement, I believe, will be the most immediate tangible result of Japan signing the Hague Convention (if in fact it ever does).
If such a requirement is imposed, will it apply to Japanese people? Probably not: Japanese citizens have a constitutional right to leave their country. And foreigners? They apparently lack this right — the re-entry permit foreigner residents are required to have is proof that they are not equally free to come and go as they please!
Full article at
http://search.japantimes.co.jp/cgi-bin/fl20091020a1.html
ENDS