mytest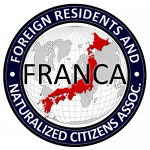 UPDATES ON TWITTER: arudoudebito
DEBITO.ORG PODCASTS now on iTunes, subscribe free
DEBITO.ORG NEWSLETTER MAY 8, 2010
Table of Contents:
//////////////////////////////////////////////////////////
MIXED OPINIONS
1)  Newsweek and NBER on how immigration helps societies, vs separate Newsweek column doubting it
2)  Savoie Child Abduction Case: Father sues judge and lawyer that enabled ex-wife to abduct
3)  US House of Reps Resolution submission regarding Japan's Child Abductions Issue
4)  How the mighty have fallen: Forbes ranks world's leading companies, Japan with only 3 in top 100, Toyota drops from 3rd to 360th
5)  Swiss woman acquitted of crimes yet denied bail due to being NJ, then barred as "visa overstayer" anyway
6)  Japan Times editorial calling for the removal of its own Berlin Walls
7)  DEBITO.ORG Podcast May 1, 2010
INFORMATION YOU JUST MIGHT NEED
8 ) GEOS Bankruptcy and G-Education takeover: Internal document forwarded to Debito.org stating staff not getting back wages
9)  Mainichi: First GOJ guidelines for teaching NJ the Japanese language so they can live here
10) Debito.org Recommends: "LANDED: The Guide to Buying Property in Japan", By Christopher Dillon; Tokyo book tour next week
TANGENTS
11) Racial profiling of immigrants becomes legal in Arizona. However, controversy ensues.
12) Holiday Tangent: "Lifer" cartoon on "Things to do in a Wintry Hokkaido", Happy May
… and finally …
13) JUST BE CAUSE Japan Times column May 4, 2010, on "Last gasps of Japan's dying demagogues " (full text)
//////////////////////////////////////////////////////////
By Arudou Debito, Sapporo, Japan
Daily Blog Updates, RSS, Newsletters, and Podcasts at www.debito.org
Freely Forwardable
//////////////////////////////////////////////////////////
MIXED OPINIONS
1)  Newsweek and NBER on how immigration helps societies, vs separate Newsweek column doubting it
We had two articles come out in Newsweek over the past two months on the effects of immigration. One from last March cites an academic saying how influxes of foreign workers boost economies, raising average incomes (based upon 50 years of data) 0.5% for every percent increase in the workforce that is foreign-born. The other guest column that came out late April cites other academics suggesting the opposite.
My take: I feel that we've got some posturing going on. I'm reminded of the movie THE RIGHT STUFF, where we have the character of Werner Von Braun saying that the Americans are going to win the space race against the Soviets because "our German [scientists] are better than their German [scientists]". Same here, where the April article brandishes its scientists vigorously, throwing in undeveloped citations like rocks (some aimed at "activists" and "multicuturalists" shrouding the debate in phony "half-truths"), and name-dropping academics with insufficient development of the science involved.
Myself, I'll trust a half-century of data collated in the March Newsweek article, and believe that countries are enriched by immigration. Would anyone argue that places like the United States have NOT benefited through labor migration to its shores? The only issue is of quantifying how much, which the April column in my view hardly accomplishes.
And if proper attraction and assimilation of immigrants is key (which the April article hints at but won't come out and say plainly), then the argument once again supports those half-truthy "multiculturalists" and their purportedly phony solutions.
https://www.debito.org/?p=6318
//////////////////////////////////////////////////////////
2)  Savoie Child Abduction Case: Father sues judge and lawyer that enabled ex-wife to abduct
AP: FRANKLIN, Tenn.  A Tennessee man who was arrested in Japan when he tried to take his children back from his ex-wife is suing the local judge and an attorney who handled the divorce.
Japanese prosecutors eventually dropped the case against Christopher Savoie of Franklin after he tried in September to enter the U.S. Consulate with his 9-year-old son and 7-year-old daughter. Ex-wife Noriko Savoie had violated a U.S. court custody decision by taking the children to her native Japan a month earlier.
The lawsuit says the children are still living in Japan with their mother.
Savoie filed a federal lawsuit this month against Williamson County Circuit Court Judge James G. Martin, who served as both the mediator during the divorce and then later as the judge that lifted a restraining order barring the ex-wife from taking the children to Japan.
Savoie claims that Tennessee Supreme Court law states that mediators should refrain from acting in a judicial capacity in cases in which they mediated. He also claims negligence because the judge was aware of the risk of child abduction in this case.
He also filed a state lawsuit in Williamson County against his former divorce attorney, Virginia Lee Story, arguing she failed to object to having Martin hear the case as a judge. He claims she was negligent and asks for compensatory and punitive damages…
https://www.debito.org/?p=6632
//////////////////////////////////////////////////////////
3)  US House of Reps Resolution submission regarding Japan's Child Abductions Issue
On Wednesday, May 5th 2010, the Japanese National Holiday of Children's Day, A United States House of Representatives House Resolution will be introduced condemning Japan for International Child Abduction and calling on Japan to facilitate the immediate return of all children abducted to Japan. This historic resolution comes after 58 years of zero cooperation by the Government of Japan on this issue. Of the 231 children abducted to Japan in the last decade, and the countless hundreds more abducted in the preceding decades, none have ever been returned, making Japan quite literally a black hole from which no child ever returns.
https://www.debito.org/?p=6624
//////////////////////////////////////////////////////////
4)  How the mighty have fallen: Forbes ranks world's leading companies, Japan with only 3 in top 100, Toyota drops from 3rd to 360th
Kyodo: Toyota Motor Corp. has fallen to 360th in the Forbes ranking of the world's leading companies for 2010, plunging from third the previous year.
Only three Japanese companies — NTT Corp., Mitsubishi Corp. and Honda Motor Co. — were ranked in the top 100, compared with 11 the previous year, indicating the diminished presence of domestic firms in the global economy. NTT was ranked 41st, Mitsubishi 78th and Honda 86th.
Major financial groups also fell in the rankings, hit by deteriorating earnings, with Mitsubishi UFJ Financial Group Inc. dropping to 369th from 21st.
https://www.debito.org/?p=6588
//////////////////////////////////////////////////////////
5)  Swiss woman acquitted of crimes yet denied bail due to being NJ, then barred as "visa overstayer" anyway
Bringing this old article up as a matter of record: I mentioned on Debito.org back in early 2008 about a Swiss woman who came to Japan as a tourist and was arrested on drug charges. She got acquitted not once but twice in Japanese courts, yet was not released on bail because NJ and are considered more of a flight risk. While actual convicted felons are released in the interim if they are Japanese.
Again, foreigners aren't allowed bail in Japan. Unlike Japanese: When Japanese defendants appeal guilty verdicts, they are not detained (see Horie Takafumi and Suzuki Muneo; the latter, now convicted of corruption twice over, is still on the streets, even re-elected to the Diet!).
So despite being incarcerated as an innocent NJ since 2008, she finally gets booted out for "overstaying her visa" (oh, sure, she could have gone to Immigration any time and renewed, right?) and barred from reentry. Rights of the defendant and "Hostage Justice" depending on your nationality. What a swizz.
https://www.debito.org/?p=6436
//////////////////////////////////////////////////////////
6)  Japan Times column calling for the removal of its own Berlin Walls
Japan Times excerpt: More than 20 years have passed since the Berlin Wall fell, yet Japan remains shut out from the rest of humanity by its own wall. Though it is a shapeless partition that we cannot touch, it nevertheless cuts off the country from the world beyond its shores. What are the characteristics of this invisible barrier?
It serves as much to prevent inbound flows as outward ones. Japan is the only major developed nation where almost none of the men and women of influence — in the realm of ideas, business or government — are from foreign backgrounds. Tokyo, as opposed to other global metropolises, has no cosmopolitan flavor. There is a striking paucity of Japanese people teaching in foreign universities, writing about the humanities and social sciences or contemporary politics in scholarly journals or mass-circulation magazines and Web sites, and working in multinational corporations, international organizations and nongovernmental organizations.
This intangible forcefield harms Japan much more than is generally realized. It condemns Japanese universities, especially in the humanities and social sciences, to international irrelevance. This is not to say that Japan lacks great researchers — it has plenty of them. But they operate in an environment with few foreign colleagues and students (except for a few Asian countries), are under-represented in international conferences, and rarely publish in global journals. Thus, their ideas remain locked within the boundaries of the wall…
https://www.debito.org/?p=6501
//////////////////////////////////////////////////////////
7)  DEBITO.ORG Podcast May 1, 2010
1) "2Channel: The Bullies' Forum" (Japan Times Just Be Cause Column February 3, 2009), on how the thriving culture of bullying in Japan has gone online and spoiled things for the rest of us.
2) Column by Gregory Clark, "Antiforeigner Discrimination is a Right for Japanese People" (Japan Times January 15, 2009), an apologist's view on how Japanese are taken advantage of both ways — both by rapacious foreigners and by bullying anti-discrimination activists. One of the worst examples of social science I've seen in print in the Japan Times.
3) "On Toadies, Vultures, and Zombie Debates" (Japan Times Just Be Cause Column March 3, 2009), inspired in part by Clark's column above, I explore the subterfuge of the disenfranchised seeking benefits of membership in The Nativist Club by telling enfranchised Japanese what they want to hear.
https://www.debito.org/?p=6615
//////////////////////////////////////////////////////////
INFORMATION YOU JUST MIGHT NEED
8 ) GEOS Bankruptcy and G-Education takeover: Internal document forwarded to Debito.org stating staff not getting back wages
I'm sure you've heard about the next great pop in the Eikaiwa Bubble in Japan, the bankruptcy of GEOS this month. Looks like there be a similar takeover and people left without jobs or remuneration for past work, so people in the industry, heads up. I was forwarded this morning the following internal email from GEOS, and those in the know might be able to explain better here or elsewhere what this all means. FYI.
https://www.debito.org/?p=6604
//////////////////////////////////////////////////////////
9)  Mainichi: First GOJ guidelines for teaching NJ the Japanese language so they can live here
Kyodo: A government subcommittee has drafted guidelines for the first time on teaching Japanese to foreign residents of Japan in order to support them in their daily lives, government officials said Thursday.
The draft guidelines compiled by a Council for Cultural Affairs subcommittee lists examples of words and phrases that foreigners should be encouraged to learn for smooth communication in 10 main types of situations, including health care, travel and activities related to consumption and safety…
The number of registered foreign residents in Japan stood at around 2.22 million at the end of 2008, according to the Agency for Cultural Affairs and the Ministry of Justice.
Many government officials concerned with language education believe it would be desirable for at least 1 million of the foreign residents to learn Japanese so that they can live their lives smoothly.
However, there has been no previous attempt to compile government standards on the extent to which foreign residents should learn Japanese.
https://www.debito.org/?p=6540
//////////////////////////////////////////////////////////
10) Debito.org Recommends: "LANDED: The Guide to Buying Property in Japan", By Christopher Dillon; Tokyo book tour next week
Earlier this year I was forwarded a manuscript by a Mr Christopher Dillon, entitled "LANDED: The Guide to Buying Property in Japan". I liked it so much that I'm recommending it here on Debito.org. As I say within the inside cover:
"Dillon's book is so good that while reading it, I felt like I was an adult in a toy store: Envious of the stuff kids have now that I would have loved to have as a kid. If only I had the information in this book when I was building my house in the 1990s, I wouldn't have ended up with the financial albatross I have now! LANDED is an essential resource for anyone considering buying the most expensive consumer good in one of the most expensive (and tricky) housing markets in the world. It's even a good read!"
As per the spirit of Debito.org (which seeks to help and empower people in Japan), and in the spirit of my first Housebuilding in Japan Essays I wrote more than a decade ago, I wholeheartedly recommend this book to anyone looking to settle down for good in Japan. Here are some cover and table of contents scans, and information about the author's Tokyo book tour next week:
https://www.debito.org/?p=6636
//////////////////////////////////////////////////////////
TANGENTS
11) Racial profiling of immigrants becomes legal in Arizona. However, controversy ensues.
I have been hearing word from several sources about the new draconian laws being enacted in Arizona to catch illegal migrant workers, including legally-sanctioned racial profiling, and stopping people on the street for ID checks. Many have said that it seems Arizona has taken a page out of the GOJ's handbook for dealing with NJ in Japan. The difference, however, is that 1) the US dragnet is (necessarily) a coarser mesh (as Japanese authorities have a wider view of who doesn't "look Japanese", since anyone can "look American" and more sophistication is needed over there), and 2) it's caused a level of controversy that has never happened in Japan (imagine street protests to this degree, even a J prime minister denouncing it?).
I believe it's only a matter of time (and it will take some time) before the Arizona authorities stop the wrong person on racial grounds, other American laws kick in to protect people against racial discrimination, and American courts rule this Arizona law unconstitutional. Wait and see.
That just ain't gonna happen in Japan for obvious reasons: We ain't got no legal sanctions against racial discrimination, let alone this degree of people caring for the human rights of foreigners.
https://www.debito.org/?p=6577
//////////////////////////////////////////////////////////
12) Holiday Tangent: "Lifer" cartoon on "Things to do in a Wintry Hokkaido", Happy May
Here's a holiday tangent: Things to do during a Hokkaido Winter, by "Lifer". Published in Sapporo Source last January (forgot to blog). Since the seasons finally flipped May 1 in Hokkaido (we went from a crappy April to a warmer and sunny May at noon yesterday, like clockwork), we are now officially as far away from Winter as possible. In commemoration, have a chuckle.
https://www.debito.org/?p=6611
//////////////////////////////////////////////////////////
… and finally …
13) JUST BE CAUSE Japan Times column May 4, 2010, on "Last gasps of Japan's dying demagogues " (full text)
The Japan Times: Tuesday, May 4, 2010
JUST BE CAUSE
Last gasps of Japan's dying demagogues
By DEBITO ARUDOU
http://search.japantimes.co.jp/cgi-bin/fl20100504ad.html
Version with links to sources at
https://www.debito.org/?p=6634
Tally ho! The hunt is on for "fake Japanese" in Japanese politics.
On March 17, at a meeting of opposition Liberal Democratic Party (LDP) officials, Tokyo Gov. Shintaro Ishihara not only criticized the ruling coalition for their (now moribund) bill offering permanent resident non-Japanese (NJ) the vote in local elections. He even accused them of having subversive foreign roots!
"How about those Diet members who have naturalized, or are the children of parents who naturalized? Lots of them make up the ruling coalition and are even party heads."
He argued that their support for NJ suffrage arose from a sense of "duty to their ancestors."
We then had the standard Ishihara brouhaha: One person who felt targeted by that remark, Social Democratic Party leader and Cabinet member Mizuho Fukushima, denounced it unreservedly as "racial discrimination." She stressed that she was in fact a real Japanese and demanded a retraction. Ishihara, as usual, refused. Cue coda.
But something's different this time. Ishihara is not just toeing the "foreigners cannot be trusted" line he's reeled out ad nauseam over the past decade to justify things like targeting foreigners and cracking down on Tokyo's alleged "hotbeds of foreign crime."
He is now saying foreigners will always be foreigners, even if they have been naturalized Japanese for generations.
He also assumes even "former foreigners" will always think along tribal bloodlines, and axiomatically vote against Japanese interests.
Take that in: A leader of a major world city is stating that personal belief is a matter of genetics. The problem isn't only that this ideology was fashionable about 130 years ago. Look where it ultimately led: putsches, pogroms and the "Final Solution."
What's with Ishihara's foreigner fetish? Author and scholar M. G. Sheftall of Shizuoka University, whose Waseda doctoral thesis was on the psychological consequences of Japan's defeat in World War II, notes this might not be limited to one demagogue.
Ishihara's "Showa Hitoketa generation" (1926-1935) was "completely immersed, from birth until late adolescence/early adulthood, in prewar Japanese ideology at its most militantly militaristic, chauvinistic and xenophobic. It is unsurprising many never quite recovered from the trauma they suffered when their ideology was suddenly and catastrophically delegitimized in August 1945."
Indeed, Ishihara is not alone. Splitting off from the LDP last month was the new Tachiagare Nippon (Sunrise Party of Japan), founded by xenophobes including Takeo Hiranuma and Ishihara. Hiranuma, you might recall from my Feb. 2 column, similarly questioned the legitimacy of Japanese lawmaker Renho because she naturalized.
But Ishihara's Japan is dying — or just plain dead. Demographic and economic pressures are making a multicultural Japan inevitable. These psychologically crippled old men are merely raging against the dying of their light. The average age of Sunrise Party founders is around 70; Ishihara himself is 77. Mortality is a blessing, as they won't be around to see the Japan they can't envision anyway.
But like I said, it's different this time, because Ishihara has made a fatal mistake. Before, he picked on foreigners with impunity because of their political disenfranchisement. Now he has expanded his sights to include Japanese citizens.
A lack of focus kills causes. For example, during the 1950s American "Red scare," a senator named Joseph McCarthy launched an anticommunist crusade to uncover people with undesirable political sympathies. But then he tried to target President Dwight D. Eisenhower. He overdid it, and it was his undoing.
Likewise, Ishihara is trying to unearth foreignness in very enfranchised Japanese people, and his movement is already coming undone. Only the extreme right buys into "racial purity means ideological purity," and after shouting down the NJ suffrage bill it has lost momentum. All the fading "Sunset" set can do is rehash anti-Chinese and Korean rhetoric while attaching tangents so loopy (e.g., claiming the ruling coalition controls Japan's entire debate arena) that they just seem paranoid.
Meanwhile, with the departure of immensely popular Diet member Yoichi Masuzoe from the LDP, the only viable opposition party just keeps on sputtering and splintering.
To repeat what I wrote in February: Those calls for NJ to naturalize if they want to be granted suffrage are just red herrings, because for people like Ishihara, Japanese citizenship doesn't matter. Once a foreigner — or once related to a foreigner — you'll never be a "real Japanese," even if you are generations removed.
It's a Trojan horse of an argument, camouflaging racism as reason. Now that it is also targeting international Japanese, it will fail.
Again, grant NJ the vote, and accelerate the multiculturalization process already under way. Don't fall for the last gasps of a lunatic fringe grasping for a Japan more than a century behind the times.
Furthermore, those accused of being "foreign" must call Ishihara's bluff and stop the witch hunt. Reply: "So what if I were to have NJ roots? I am still as Japanese as you. You have a problem with my nationality? Take it up with the Ministry of Justice. They will side with me."
Ishihara and company: Game over. Time for you to resign and get out of our way.
============================
Debito Arudou coauthored the "Handbook for Newcomers, Migrants and Immigrants." Twitter arudoudebito. Just Be Cause appears on the first Community Page of the month. Send comments to community@japantimes.co.jp
//////////////////////////////////////////////////////////
That's all for today!  Thanks for reading!
By Arudou Debito, Sapporo, Japan
Daily Blog Updates, RSS, Newsletters, and Podcasts at www.debito.org
DEBITO.ORG NEWSLETTER MAY 8, 2010 ENDS