mytest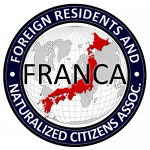 UPDATES ON TWITTER: arudoudebito
DEBITO.ORG PODCASTS now on iTunes, subscribe free

The Japan Times Tuesday, May 4, 2010
JUST BE CAUSE Column 27
Last gasps of Japan's dying demagogues
By DEBITO ARUDOU
http://search.japantimes.co.jp/cgi-bin/fl20100504ad.html
Tally ho! The hunt is on for "fake Japanese" in Japanese politics.On March 17, at a meeting of opposition Liberal Democratic Party (LDP) officials, Tokyo Gov. Shintaro Ishihara not only criticized the ruling coalition for their (now moribund) bill offering permanent resident non-Japanese (NJ) the vote in local elections. He even accused them of having subversive foreign roots!
https://www.debito.org/?p=6564
"How about those Diet members who have naturalized, or are the children of parents who naturalized? Lots of them make up the ruling coalition and are even party heads."
https://www.debito.org/?p=6564
https://www.debito.org/?p=6564#comment-194104
He argued that their support for NJ suffrage arose from a sense of "duty to their ancestors."
We then had the standard Ishihara brouhaha: One person who felt targeted by that remark, Social Democratic Party leader and Cabinet member Mizuho Fukushima, denounced it unreservedly as "racial discrimination." She stressed that she was in fact a real Japanese and demanded a retraction. Ishihara, as usual, refused. Cue coda.
http://search.japantimes.co.jp/cgi-bin/nn20100424a7.html
But something's different this time. Ishihara is not just toeing the "foreigners cannot be trusted" line he's reeled out ad nauseam over the past decade to justify things like targeting foreigners and cracking down on Tokyo's alleged "hotbeds of foreign crime."
He is now saying foreigners will always be foreigners, even if they have been naturalized Japanese for generations.
He also assumes even "former foreigners" will always think along tribal bloodlines, and axiomatically vote against Japanese interests.
Take that in: A leader of a major world city is stating that personal belief is a matter of genetics. The problem isn't only that this ideology was fashionable about 130 years ago. Look where it ultimately led: putsches, pogroms and the "Final Solution."
http://en.wikipedia.org/wiki/Social_Darwinism
What's with Ishihara's foreigner fetish? Author and scholar M. G. Sheftall of Shizuoka University, whose Waseda doctoral thesis was on the psychological consequences of Japan's defeat in World War II, notes this might not be limited to one demagogue.
Ishihara's "Showa Hitoketa generation" (1926-1935) was "completely immersed, from birth until late adolescence/early adulthood, in prewar Japanese ideology at its most militantly militaristic, chauvinistic and xenophobic. It is unsurprising many never quite recovered from the trauma they suffered when their ideology was suddenly and catastrophically delegitimized in August 1945."
Indeed, Ishihara is not alone. Splitting off from the LDP last month was the new Tachiagare Nippon (Sunrise Party of Japan), founded by xenophobes including Takeo Hiranuma and Ishihara. Hiranuma, you might recall from my Feb. 2 column, similarly questioned the legitimacy of Japanese lawmaker Renho because [he believes] she naturalized.
http://search.japantimes.co.jp/cgi-bin/fl20100502x1.html
But Ishihara's Japan is dying — or just plain dead. Demographic and economic pressures are making a multicultural Japan inevitable. These psychologically crippled old men are merely raging against the dying of their light. The average age of Sunrise Party founders is around 70; Ishihara himself is 77. Mortality is a blessing, as they won't be around to see the Japan they can't envision anyway.
http://japanvisitor.blogspot.com/2010/04/tachiagare-nihon-new-sunrise-party-of.html
But like I said, it's different this time, because Ishihara has made a fatal mistake. Before, he picked on foreigners with impunity because of their political disenfranchisement. Now he has expanded his sights to include Japanese citizens.
A lack of focus kills causes. For example, during the 1950s American "Red scare," a senator named Joseph McCarthy launched an anticommunist crusade to uncover people with undesirable political sympathies. But then he tried to target President Dwight D. Eisenhower. He overdid it, and it was his undoing.
http://en.wikipedia.org/wiki/Joseph_McCarthy
Likewise, Ishihara is trying to unearth foreignness in very enfranchised Japanese people, and his movement is already coming undone. Only the extreme right buys into "racial purity means ideological purity," and after shouting down the NJ suffrage bill it has lost momentum. All the fading "Sunset" set can do is rehash anti-Chinese and Korean rhetoric while attaching tangents so loopy (e.g., claiming the ruling coalition controls Japan's entire debate arena) that they just seem paranoid.
Meanwhile, with the departure of immensely popular Diet member Yoichi Masuzoe from the LDP, the only viable opposition party just keeps on sputtering and splintering.
https://www.debito.org/?p=6509
To repeat what I wrote in February: Those calls for NJ to naturalize if they want to be granted suffrage are just red herrings, because for people like Ishihara, Japanese citizenship doesn't matter. Once a foreigner — or once related to a foreigner — you'll never be a "real Japanese," even if you are generations removed.
It's a Trojan horse of an argument, camouflaging racism as reason. Now that it is also targeting international Japanese, it will fail.
Again, grant NJ the vote, and accelerate the multiculturalization process already under way. Don't fall for the last gasps of a lunatic fringe grasping for a Japan more than a century behind the times.
Furthermore, those accused of being "foreign" must call Ishihara's bluff and stop the witch hunt. Reply: "So what if I were to have NJ roots? I am still as Japanese as you. You have a problem with my nationality? Take it up with the Ministry of Justice. They will side with me."
Ishihara and company: Game over. Time for you to resign and get out of our way.
Debito Arudou coauthored the "Handbook for Newcomers, Migrants and Immigrants." Twitter arudoudebito. Just Be Cause appears on the first Community Page of the month. Send comments to community@japantimes.co.jp
ends