mytest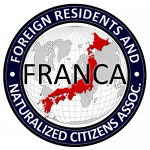 UPDATES ON TWITTER: arudoudebito
DEBITO.ORG PODCASTS now on iTunes, subscribe free
Hi Blog.  Just to let you know, sorry it's in the middle of vacation.
My next Japan Times JUST BE CAUSE column will be out tomorrow May 4 online and in print (Weds in provinces).
Topic:  Tokyo Governor Ishihara tries to launch a Witch Hunt for Japanese politicians with alleged NJ roots.  I argue that this is the end of his influence, as he's over extended himself.  Before, he could bash NJ because they were disenfranchised.  Not this time.  He's trying to go after Japanese now too.  He's no longer just a bigot.  He's a paranoid nut, trying to smoke out foreigners under every bed.
Get a copy!  Arudou Debito in Sapporo
UPDATE:  Here it is.  Give the JT some hits.  I'll have it up here tomorrow for commentary.
http://search.japantimes.co.jp/cgi-bin/fl20100504ad.html