mytest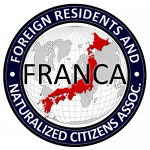 UPDATES ON TWITTER: arudoudebito
DEBITO.ORG PODCASTS now on iTunes, subscribe free
Hi Blog.  Another example of sauce for the goose.  When we see Japanese overseas being subjected to a unequal treatment (in this case, an optional tourist surcharge), we get news coverage and complaints (in this case, from a Japanese bystander — either ignorant or not wanting to acknowledge that the Home Team doesn't in fact treat foreigners equally — who richly claims that "everyone is equal in Japan").  Shoe sure does pinch on the other foot.
For the record, I think this (optional) surcharge is okay as long as it's optional and not applied to only one ethnic group (if there's an issue of taxpayer subsidies of a place, then fine; allow for refunds of VAT for non-residents at the border to offset).  However, according to the article below, it looks like this very surcharge was encouraged by the Japanese tourist board!  Wheels within wheels.  At least they get a badge.  Anyway, something to chuckle over on a rainy Saturday.  Arudou Debito in Sapporo
////////////////////////////////////////
The tale of Peter Rabbit and a £5 'tax' on his Japanese friends
The Times (London)
May 6, 2010, courtesy Ben Shearon
http://www.timesonline.co.uk/tol/news/uk/article7117473.ece
Also visible at Japan Probe with commentary
Peter Rabbit, who has appeared on everything from tea towels to crockery, has now inspired a tax. A party of Japanese tourists posing for photographs yesterday at the Cumbrian cottage made famous by Beatrix Potter's stories became the first to be asked to make a £5 donation for the preservation of the local landscape.
The group was following a trail from Bowness to Hawkshead taken by 80,000 of their countrymen each summer. They come to see Hill Top, the cottage where Peter Rabbit, a character as central to a Japanese child's upbringing as Hello Kitty and Mickey Mouse, was invented.
Now Japanese visitors will be invited by tour operators to contribute £5, a charge already nicknamed the "Peter Rabbit tax".
Atsuhito Oikawa, 35, an academic in medical research, said that £5 would not be prohibitive to most Japanese but they should not be the only ones to pay. "Everyone is equal in Japan," he said. "If you distinguish between Japanese and others, you run the risk of appearing discriminatory."
The initiative, believed to be the first of its kind, was born when Japanese Travel Trade, effectively the Japanese tourist board, approached Japan Forum, run by Lakeland businesses.
Keira Holt, a marketing executive with Nurture Lakeland, which supports conservation in the Lakes, said that the Japanese were keen to promote ecotourism. She emphasised that the donation was voluntary and that Japanese people were not being discriminated against. They were, she said, simply leading the way. "Ecotourism is huge in Japan," she said. "We are incredibly appreciative that their concern for the environment extends to our own country.
"The money will go towards anything to do with conservation, restoring worn footpaths and promoting biodiversity such as projects to protect species like the red squirrel."
So far 3,200 visitors have signed up to the scheme. They will be rewarded with a badge bearing the legend "Help look after the landscape that inspired Peter Rabbit" and a certificate.
The initiative was launched at Wray Castle, near Ambleside, where Potter stayed as a 16-year-old in 1882 and fell in love with the Lakes.
She acquired Hill Top, a farm cottage near Sawrey, in 1905. The setting inspired The Tales of Peter Rabbit and characters such as Jemima Puddleduck, Tom Kitten and Samuel Whiskers. The author died in 1943, leaving the property to the National Trust. The curators maintain it as it was when she lived there.
The popularity of the books has been boosted by the release of the 2007 film Miss Potter, starring Renée Zellweger.
Yesterday the Japanese visitors, who make up about one in four of all visitors, stepped through the modest porch into the dark interior or enjoyed a pot of tea with spectacular views over Esthwaite. Junko Ishiwata, a tour guide for Mountain Goat, said: "In Japan Peter Rabbit is a very popular character like Hello Kitty and Mickey Mouse. In the books there is the beatiful Lakeland scenery. Many people want to see it for themselves.
"I think the donation scheme is great for the Lakes. Five pounds is not very big for the Japanese people, espcially if they receive the Peter Rabbit badges. But, at the same time, they have already paid a lot of money to come here. It really depends on each individual person. After they see the beautiful scenery, they may wish to contribute something."
John Moffat, general manager of the National Trust's Beatrix Potter properties, said: "The Japanese are very important to us at Hill Top. It is a key place they want to visit when they come to the UK."
ENDS