mytest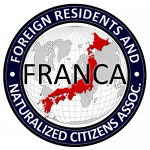 UPDATES ON TWITTER: arudoudebito
DEBITO.ORG PODCASTS now on iTunes, subscribe free
Hi Blog. Here is a thoughtful article from Temple University's Robert Dujarric on how immigration might help Japan as its power wanes vis-a-vis China.
I will say, however, that if Japan offers the promise of domestic work, and if (to quote Dujarric) "Many individuals would start to study Japanese, in the hope of one day working in the country.", then it had better make good on the promise of offering equal opportunity for advancement and assimilation regardless of background, by enacting laws that protect against discrimination.  We were made a similar promise under the purported "kokusaika" of the Bubble Era.  That's why many of our generation came to Japan in the first place, and decades later feel betrayed by the perpetual second-class status.  Arudou Debito in Sapporo
///////////////////////////////////////
The Japan Times Thursday, May 20, 2010
Immigrants can buoy Japan (excerpt)
By ROBERT DUJARRIC Special to The Japan Times
It is not possible to spend more than a few minutes with a Japanese diplomat or scholar without hearing the "C," namely China. Most of them are convinced that the People's Republic is expanding its global influence while Japan's is shrinking. The entire world, and most worryingly Asia, which used to look toward Japan when Harvard scholar Ezra Vogel crowned it "No. 1" now sees China not only as the country of the future but already as today's only Asian giant.
There is an element of truth in this concern. China has deepened and expanded its economic, political and cultural reach in the past two decades. Japan, on the other hand, has failed to show the same dynamism. Past and current Japanese administrations have sought to counteract these trends, but their ambitions have generally been thwarted by the unwillingness to spend more (foreign aid, cultural diplomacy, etc.) and the power of the agricultural lobby, which has forced Japan to lag behind China in initializing free-trade agreements (the value of which may be disputed, but they do have a public-relations impact).
There is one area, however, where Japan could engage in a strategy that would simultaneously help its economy and give it an edge over China. This is immigration. Japan is unique among economies that are highly developed and in demographic decline in having so few immigrants. In fact, even European states that are in much better demographic condition also have large numbers of foreigners and recently naturalized citizens in their labor force.
The domestic economic advantages of a more open immigration policy are well documented. What is less understood is how it can be used as a foreign policy instrument. If Japan were home to several million guest workers, the country would become the lifeline of tens of millions of individuals back in their homeland who would benefit from the remittances of their relatives in the archipelago. Its economic role in the lives of some of these countries would become second to none. Many individuals would start to study Japanese, in the hope of one day working in the country. Familiarity with Japan and its culture would also rise dramatically in these nations.
Moreover, Japanese diplomatic power would increase as well…
Rest of the article at
http://search.japantimes.co.jp/cgi-bin/eo20100520a1.html
ENDS