mytest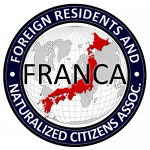 UPDATES ON TWITTER: arudoudebito
DEBITO.ORG PODCASTS now on iTunes, subscribe free
Hi Blog.  As a follow-up with the exclusionary hotels (and the prefectural tourist agency that promotes them) in Fukushima-ken, here we have one person's experience the other day getting refused at one of them, by being told that there were no rooms available (meaning they get around the Hotel Management Law that forbids refusing people for reasons such as being a customer while NJ).  Discriminators are getting more sophisticated, so it looks like we have to have native Japanese make reservations at some Japanese hotels on our behalf.  Sheesh.
I'm going to be on the road for a few days (Tokyo and Nagoya) doing a couple of speeches, so brief entry for today.  Arudou Debito in transit.
/////////////////////////////////////////////
May 11, 2010
Dear Debito,
Thank you for your effort to improve the lives of foreigners in Japan. I've read a lot on your blog about Japanese businesses refusing foreigners by explicitly stating so, and you give good advice on how to deal with this. Unfortunately there is also quite a lot of concealed discrimination.
During Golden Week for example, I walked into the lobby of the Hotel Takasago (http://spo-sato.jp/2006/03/03-133856.php) in Futaba (Fukushima-ken), the only hotel in town, and was told to go to the next bigger city because all rooms are full (the whole conversation in Japanese). I left the lobby and immediately my girlfriend, who is Japanese and had waited outside, called the hotel and asked for vacancies. She was offered a twin room, walked in and got the key, all this within 5 minutes.
It could be that the room had just been cancelled but I don't think so as we called immediately after I had left the lobby. We stayed in that twin room (the owner didn't notice me walking in again later) and that night as well as the next morning there where no signs whatsoever of any other hotel guest, the parking lot was empty etc.
I find this kind of discrimination particularly annoying because you can't do much if the hotel owner just claims all rooms are full. MP
ENDS