mytest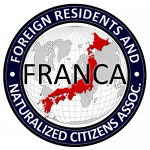 UPDATES ON TWITTER: arudoudebito
DEBITO.ORG PODCASTS now on iTunes, subscribe free
Hi Blog. Been on the road the past few days, giving speeches at Daito Bunka Daigaku in Tokyo on Thursday, and on Saturday at a place quite "in the middle of nowhere" called Kani City in Gifu Prefecture, close to an hour north from Nagoya, in a quite spread-out and leafy area of the country.
I'll have more details on the speech soon (as soon as I can get to a scanner; I have copious documents) but this is a very, very progressive place regarding the treatment of its high NJ-resident population (it even signed the Hamamatsu Sengen nearly a decade ago), and a model for other local governments in Japan.  I was invited to speak on what Japan needs to do as a country to make things better. Good audiences, great fun, more on it later.
I also managed to spend Friday night in Inuyama and had a great meeting with City Councilor (and naturalized citizen) Anthony Bianchi, talking about the ins and outs of running for local office.  Other naturalized citizen and City Councilor Jon Heese in Tsukuba has already discussed this on Debito.org, so have a read if you're interested.
The problem with the recommended (and quite cheap) tourist hotel I stay in on the shores of Kisogawa (the river Momotaro came down, famous for its cormorant fishing shows) is that the owners have not even heard of the Internet, so that leaves me offline whenever I head for the hinterlands.
Anyway, I'm with friends in Nagoya the rest of the day, returning to Sapporo tonight, so please let me confine my postings this weekend to a Sunday Tangent, which I will put up in a few minutes.  Thanks to everyone again for reading Debito.org!  Arudou Debito in Nagoya