mytest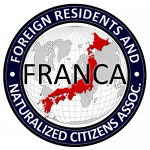 UPDATES ON TWITTER: arudoudebito
DEBITO.ORG PODCASTS now on iTunes, subscribe free
Hi Blog.  Got this from friend MS yesterday, a monthly publication from the Tokyo Police letting us know what they're up to regarding fighting crime.  In this case, the Yakuza.  Have a look:
I'm happier with this than usual.  Yes, we have the regular report on the evils that foreign criminals get up to.  But this time, it's not a major focus, and it's within a context of all the other evils that Japanese criminals get up to.
Fine.  Go get the bad guys.  Just don't make it seem the bad guys are bad because they are foreign.  As the past NPA notices have taken great pains (and taxpayer outlay) to make clear (archive here at Debito.org).
This is an improvement.  It provides context as well as content.  And the appropriate weight.  Arudou Debito in Sapporo