mytest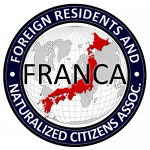 UPDATES ON TWITTER: arudoudebito
DEBITO.ORG PODCASTS now on iTunes, subscribe free
Hi Blog. Japan is gearing up to take another big Census of the population come October. This time, fortunately, we have a flash site explaining what it's all about in Japanese, Chinese, Korean, Portuguese, and English:
http://www.stat.go.jp/data/kokusei/2010/special/english/index.htm
(Note how turdski Pakkun has become the Token White guy…)
Jolly decent of the GOJ to make the effort to explain what's going on, if in prime Japanicana schoolteacher style.
As for the Census itself. I've always had a problem about it not measuring people (using optional questions) about their ethnicity (minzoku). Up until now, respondents were always asked about their nationality (kokuseki), never their roots, meaning someone like me can't indicate anywhere that I'm ethnically an American-Japanese (amerika kei nihonjin).  But I see that as political:  This way Japan in government statistics officially remains the nondiverse Monocultural Society, with only 1.6% or so of the population as "foreign".  If anyone sees that being handled differently this time, please let us know.  Not a lot of time right now to tool around the site.  Thanks.  Arudou Debito in Sapporo