mytest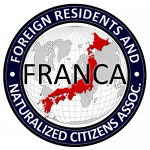 UPDATES ON TWITTER: arudoudebito
DEBITO.ORG PODCASTS now on iTunes, subscribe free
Hi Blog.  On this day of heading for Narita, here's an update from a Debito.org Reader on how the Narita Airports Not-Random Gaijin Card Checks are continuing unabated.  I hope for their sake they don't stop me; not in the mood.  Arudou Debito in transit
////////////////////////////////////////
January 31, 2010.  Author:  Ariel
Hi Debito, I'm not sure whether you're interested in an update on what's going on at Narita, but I've noticed the topic cropping up in the comments lately.
My work takes me to Narita airport an average of once a month, and I've been noticing an increase in "random" police checks since last September. In my first three years living/working in Japan I was never once stopped by a policeman, but I was stopped three times in a row recently. I'm a caucasian woman in her mid-20's by the way.
Early September: I was in the arrival lobby waiting to pick up some college-aged interns when I was approached by a uniformed policeman who asked for my passport in English. I explained in Japanese that I lived in Japan, so he asked for my ARC. I asked why, and he gave the standard explanation of catching overstayers. I didn't want my new interns' first impression to be of me arguing with an officer, so I gave in and let him take down my info.
Early November: I was sitting in the departure lobby filling out some paperwork before heading through security to catch a flight. Two officers came up and once again asked to see my passport in English. I asked why, and this time they said it was an anti-terrorism thing. Since I didn't want to risk being late for my flight I let them take down my info (they even asked for my phone number) but gave them a hard time about how kibishii and mendou Japan is getting. They actually laughed and agreed.
Early January: I was standing in the departure lobby with another female caucasian coworker when two officers approached and started the standard conversation (I actually saw them eyeing us, and predicted to my coworker that we were going to get carded…sucks to be right). Once again, when asked why they were doing the check they blamed it on anti-terrorism procedures, though they were quick to assure us that of course they didn't think the two of us were terrorists, but they needed to go through the motions. I responded that I felt it was an invasion of privacy, which caused them to get a bit stone-faced. I then asked "shinakutemo ii desu ka", and they hemmed and hawed a bit, but eventually walked away.
Late January: I didn't get stopped this time, but I also had a Japanese coworker with me in addition to my caucasian coworker. We were in the departure lobby most of the time, and we didn't notice any patrolling officers.
Today [January 31]: I was picking up yet another intern, and decided to do a bit of informal research. I stood by where people exit from customs, but well away from the general flow of traffic, while holding a sign with the intern's name on it an my headphones securely over my ears. I think my general location and demeanor discouraged any officers from coming over to check me, every other time I had been stopped I was in a high traffic area and did not have any "barriers" to starting a conversation. However, I was in a great spot to observe what the three officers posted in the area were doing for the half an hour I was waiting.
One or two of the officers would periodically search for someone to check. They were most certainly not being random, they would stand in the flow of traffic and scan those passing by until someone caught their fancy and then they'd make a bee-line for them. I saw them stop a total of 11 people, ALL of whom were caucasian, and all of whom were walking alone or in pairs. None of the 11 protested, but then again they all had luggage and/or had just exited customs, so it's quite possible they were mostly tourists. I did not see them stop any other NJs (black, latino, etc), but strangely there seemed to be only caucasians and asians in the terminal at the time (yes, I looked). The only time I saw the officers speak to an asian was when a young woman approached an officer and asked for directions.
Granted this is essentially all anecdotal evidence, but it seems pretty clear that the police at Narita have been instructed to engage in active racial profiling. The oddest thing to me though is that these officers don't seem to care about finding dangerous people, rather they seem to be targeting people who seem to be easy to approach and won't make a fuss in order to make a quota and give the appearance that they are doing something to combat crime and terrorism. Is it just me, or is this the opposite of what the goal of airport security should be? Instead of keeping an alert watch out for legitimately suspicious people they are wasting half of their time stopping people they don't think pose any threat!  Ariel
ENDS