mytest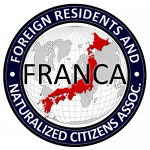 UPDATES ON TWITTER: arudoudebito
DEBITO.ORG PODCASTS now on iTunes, subscribe free
Hi Blog. Just got this this morning from friend Sendaiben, about his latest experience with Narita Cops and their racially-profiling ways. Self explanatory, looks like the J-cops are getting free training at the expense of NJ bystanders for being visible while foreign. Have a read. More on this topic previously on Debito.org here. Debito
////////////////////////////////////////////////
From: Sendaiben
Date: September 5, 2010
Flying out of Narita on September 5th, I had a few hours to kill after connecting from Sendai. I was alone, reading on a bench in the restaurant area. After about 20 minutes, a young and very pleasant policeman came up and asked to see my passport in passable English. I replied in Japanese, and we had an interesting conversation. Unfortunately I was mentally unprepared for all of this, so gave him my passport from which he noted down all the details. I refused to provide a contact phone number, however.
I have to emphasise that he was very pleasant throughout, and we had a friendly conversation. He was from Akita, seconded to Narita for two years (it seems the Narita police are drawn from all over the country). I mentioned several times that as a long-term resident I loved Japan but was uncomfortable being singled out for special attention like this due to my appearance. He sympathised and said that it also made him uncomfortable.
Some important points:
1. It seems that the whole exercise is voluntary, something he mentioned when I refused to provide the phone number.
2. I reminded him of the law on the management of personal information, but he was unable to tell me why they needed my passport details or how long they would be kept on file.
3. He claimed it was a random check but that they asked 'people who seemed foreign'. I asked him to ask some Asian people next, and he said he would 🙂
The whole thing seemed like a training exercise, down to the silent sempai observing from ten metres away.
The most important thing I got out of this is that these checks may well be voluntary. I am therefore going to refuse (politely) to cooperate next time, and see what happens. I guess in a worst-case scenario they could ask to check my ARC, but I would then not allow them to write anything down.
ENDS