mytest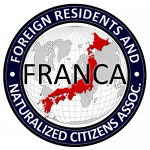 UPDATES ON TWITTER: arudoudebito
DEBITO.ORG PODCASTS now on iTunes, subscribe free
Hi Blog.  Have a look at these articles, then I'll comment:
////////////////////////////////////////////////////////
Ichihashi gets warrant for Hawker rape-murder
Japan Times Dec 3, 2009 (excerpt)
CHIBA (Kyodo) Tatsuya Ichihashi was served a fresh arrest warrant Wednesday on suspicion of raping and killing Briton Lindsay Ann Hawker, after being charged earlier in the day with abandoning her body.
The 30-year-old was arrested on Nov. 10 in Osaka following more than 2 1/2 years on the run since Hawker was found strangled and stuffed in a tub on the balcony of his apartment in Ichikawa, Chiba Prefecture, in 2007.
Although Ichihashi has remained silent about the murder, the police believe he killed the 22-year-old language teacher and the murder warrant was so served on the last day of his detention period authorized under the initial arrest on the technical offense of abandoning a corpse.
Rest at http://search.japantimes.co.jp/cgi-bin/nn20091203a3.html
===========================
Hawker was found bound, shorn
Japan Times Dec 5, 2009 (excerpt)
CHIBA (Kyodo) Slain Briton Lindsay Ann Hawker's hair had been cut and her hands and feet bound with ropes when her corpse was found buried in a sand-filled bathtub on the balcony of murder suspect Tatsuya Ichihashi's apartment in Chiba Prefecture in March 2007, investigative sources revealed Friday.
Chiba Prefectural Police believe Ichihashi, 30, tied her up with polyester rope before raping her and cutting her hair, and prepared the sand and the tub to conceal her body and the smell of her decomposing corpse, the sources said, noting the rope is sold at many stores.
The police discovered an empty bag for the sand for gardening, and long tufts of hair of hair in a trash bin at Ichihashi's apartment when they found the body of Hawker, 22, the sources said…
Rest at http://search.japantimes.co.jp/cgi-bin/nn20091205a7.html
==========================
Police charge Ichihashi with murdering British teacher Hawker
Mainichi Shinbun Dec 2, 2009
http://mdn.mainichi.jp/mdnnews/news/20091202p2a00m0na016000c.html
ICHIKAWA, Chiba — Police served a fresh arrest warrant Wednesday on Tatsuya Ichihashi — the 30-year-old man who has already been arrested on a charge of abandoning the body of 22-year-old Briton Lindsay Ann Hawker — for the victim's murder, police said.
Ichihashi was hit with the murder charges as his legal detention period was set to expire.
He stands accused of strangling Lindsay at his home in Ichikawa sometime between March 25 and 26, 2007. He kept silent about the new charges during questioning.
DNA in body fluid detected from the victims' body matched that of Ichihashi.
It was confirmed that Ichihashi and Hawker entered Ichihashi's apartment on March 25, 2007, and that there were no signs that anyone else entered the apartment before the discovery of Hawker's body the next afternoon, according to investigators.
On the afternoon of March 26, the English language school where Hawker worked reported her missing to Chiba Prefectural Police. A piece of paper with Ichihashi's name and phone number were found at Hawker's home in Funabashi, Chiba Prefecture.
Around 9:40 p.m. that evening, Ichihashi escaped as police were questioning him in front of his apartment. Hawker's body was found in a bathtub on the balcony of the apartment. She had died of asphyxiation.
ENDS
市橋容疑者:リンゼイさん殺害容疑で再逮捕 千葉県警
毎日新聞 2009年12月2日
http://mainichi.jp/select/jiken/news/20091203k0000m040015000c.html
千葉県市川市で07年3月、英国人英会話講師リンゼイ・アン・ホーカーさん(当時22歳)の他殺体が見つかった事件で、県警行徳署捜査本部は2日、千葉地検が同日死体遺棄罪で起訴した市橋達也被告(30)を殺人と強姦(ごうかん)致死の両容疑で再逮捕した。捜査本部によると、再逮捕時に市橋容疑者は小さい声で「はい、分かりました」と言ったものの、容疑については無言のままという。
再逮捕容疑は07年3月25日午前から翌26日午後にかけ、市川市内のマンションの自室でリンゼイさんを性的に暴行し、首を絞め殺害したとしている。死因は窒息死で、捜査関係者によると、首の骨が折れていた。一つの行為が二つ以上の罪名に触れることを「観念的競合」といい、捜査当局は市橋容疑者の動機や事件の流れを明らかにするため、今回は殺人と強姦致死の両容疑で立件に踏み切ったとみられる。
捜査関係者によると、遺体から検出された体液と市橋容疑者のDNA型が一致。さらに遺体発見前日の同25日午前、市橋容疑者がリンゼイさんと2人で自室に入るのが防犯カメラで確認され、それ以降遺体が見つかるまで第三者が部屋に出入りした形跡がなかったという。
事件は同26日午後、「リンゼイさんの行方がわからない」と勤務先の英会話学校が県警に連絡したことから発覚。同県船橋市のリンゼイさんの自宅に市橋容疑者の電話番号や名前のメモがあり、午後9時40分ごろ、捜査員が市橋容疑者の自宅を訪れ、玄関先で職務質問しようとしたところ逃走。部屋のベランダにあった浴槽からリンゼイさんの遺体が発見された。
市橋容疑者は逃走中、大阪府内の建設会社などで働きながら整形手術を繰り返していたとみられる。今年10月には整形手術で名古屋市内のクリニックを訪れ、手術後に医師が県警に通報。訪れた際の写真が公開され、翌11月10日、大阪市住之江区の南港フェリーターミナルの待合室にいたところを通報で駆けつけた警察官に身柄を確保された。【神足俊輔、中川聡子、斎藤有香】
ENDS
COMMENT:  Now here's what I don't get.  Ichihashi's charge has been upgraded from corpse abandonment to outright murder.  But why wasn't it before?  What new information has been brought out since his apprehension?  Police already knew about the body, the disposed-of hair, the fact that she accompanied Ishihashi to his apartment and was last seen there.  And now suddenly his DNA matches bodily fluid found on her corpse.  But didn't the police know all of this before?  It's not as though Ichihashi's interrogation revealed him admitting any new information (after all, he's not talking).
Why is it that he gets charged with mere corpse abandonment (something that frequently happens when a NJ gets killed) up until now, whereas if something like this is done to a Japanese victim (as posters with Ichihashi's fellow murder suspects indicate), it gets a full-blown murder charge?  Why the delay until now?  I wish I had the information to answer these questions.
Final thing I find odd:  Good for father Mr Hawker being tenacious about this case.  There are plenty of other murders (Tucker Murder, Honiefaith Murder, Lacey Murder, and Blackman Murder) and assaults (Barakan Assault) of NJ that the NPA and the criminal courts gave up on all too easily.  Does the family of the NJ victim have to pursue things more doggedly than the police before the NPA will actually get on it (as they had to do for Lucie Blackman's killer, and he still got acquitted for it)?  It only took the NPA close to three years to get Ichihashi, and that was after a tip from a face change clinic (not any actual police investigation).
Why this half-assedness for crimes against NJ?  Sorry, there's lots of things here that just don't make sense, and they point to different judicial standards for NJ victims of J crime.  Arudou Debito in Sapporo