mytest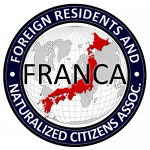 UPDATES ON TWITTER: arudoudebito
DEBITO.ORG PODCASTS on iTunes, subscribe free
CONTACT INFORMATION FOR ICHIHASHI'S BOOK PUBLISHER
By Caroline Pover, Author, Being A Broad in Japan, courtesy of the author
http://www.carolinepover.info/2011/01/information-for-anyone-wanting-to-contact-the-publisher-of-ichihashis-book/
Posted in: Foreign women in Japan-Jan 28, 2011
For anyone inclined to contact Gentosha (the publishers of Ichihashi's book), you can do so by using the following:
Phone from within Japan: 03-5411-6211
Phone from outside of Japan: +81-3-5411-6211
Email (general enquiries): keieikikaku@gentosha.co.jp
Email (comments on their books): comment@gentosha.co.jp
There is a woman there who speaks perfect English, and one of the men responsible for making the decision to approach Ichihashi's representatives has been reachable, but both these people have refused to give their names. And yes, just to clarify, the publishing house initiated the publication of this book. Their website is http://www.gentosha.co.jp.
Now I understand that there is human interest in this "story" and this book. I understand that human nature means that we are often interested in the sinister and the macabre, often for reasons we cannot explain and perhaps in a way we may not be particularly comfortable with. I understand that people are fascinated by how Ichihashi escaped and how he survived for so long on the run. I fully expected there to be a book at some point, and I don't really blame the general public for wanting to read it.
What I don't understand is how this book has been allowed to be released now. BEFORE the trial. Only in the past few days have tentative dates for the trial even been set — surely the publishers must have approached Ichihashi's representatives knowing that they could produce the book before the trial, and Ichihashi's representatives possibly thought to seize the opportunity to gain public sympathy.
Ichihashi has several defence lawyers, all of whom are working pro bono. A book like this will become a bestseller (and it will, make no mistake — and some scumbag is probably already on the phone right now asking for the movie rights). The Hawker family has repeatedly refused to accept any money from an individual claiming to be an Ichihashi supporter, and the family also refuses to accept any monies from the publication of this book. Ichihashi and his defence team may or not receive any money themselves, but the publisher certainly will. Ichihashi has been given the opportunity to tell his story, but shouldn't that story be told in court?
What will be told in court however is the REAL story of what happened to Lindsay Ann Hawker. The real story of what he did to her, with details that her parents and sisters will have to listen to and live with forever. And when THAT story is told, the Gentosha staff who worked on Until I was arrested: Record of a two-year and seven-month blank will feel utterly ashamed of themselves.
ENDS