mytest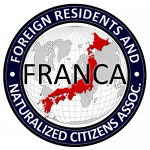 UPDATES ON TWITTER: arudoudebito
DEBITO.ORG PODCASTS now on iTunes, subscribe free
Hi Blog. There's a debate going on between Debito.org Reader OG Steve and myself that is too good to leave buried in a Comments Section. It was occasioned by a recent blog entry about a sign, up at an outlet of bargain haircutter QB House in Tameike Sannou, Tokyo, requiring Japanese language ability for service. OG Steve made the point that he was happy to see an exclusionary sign up that proclaimed clear and present exclusionism (as opposed to the hedging wording of "we reserve the right to refuse service to anyone"), which in his view actually made discriminatory policies harder to stamp out. I disagreed, as in my view clear and present exclusionary policies, especially in the form of signs like these, encourages proliferation and copycatting, institutionalizes the discrimination, and further weakens civil society's ability to take action against exclusionism. OG Steve replied that it makes the evidence and case clearer, and thus strengthens the hand of people who wish to take judicial action. I replied… well, read on. Then we'll open the floor to discussion. It's a worthy topic, so let's have at it, and see if we can get some conclusive arguments from other Debito.org Readers as well.
///////////////////////////////////////////
OG STEVE WRITES:
2011/01/11 at 5:13 pm
Let's remember that ironically, American businesses DO often have signs which say "We reserve the right to refuse service to anyone". D'oh!
http://www.google.com/images?q="We+reserve+the+right+to+refuse+service+to+anyone"
So when business owners write a sign which gives a reason they are going to refuse service to you (whether it be race, language, whatever) we of course, rightly, get upset about the fact the company is openly announcing their discriminatory practice, but… when business owners write a VAGUE sign which doesn't give an exact reason they are going to refuse service to you (like "We reserve the right to refuse service to anyone") we strangely DON'T complain about these vague signs.
Why don't we complain about those vague signs? Are we so naive to believe that business owners who put up those vague signs are only going to use their self-proclaimed "right to refuse" strictly in "the appropriate, right, correct" situations?
Of course not, business owners who put up those vague "right to refuse" signs can and do successfully play the ugly game of discrimination like this:
"Yeah, Mr. Lawyer, I hear what you said, you've come here to ask me why I kicked your client out of my shop. Well as you can plainly read the sign on the wall says 'We have the right to refuse service to ANYONE', it doesn't specifically say 'Anyone who does something dangerous' or 'Anyone who does something bad' (which is what you perhaps are naively assuming it to mean) nope, it simply says 'ANYONE'.
"Now, it seems to me that you are trying to claim that I kicked out your client based on his race, now that's a serious claim there partner, and furthermore you want me to admit this crime right now to you verbally, so that you can take me to court and easily win a discrimination lawsuit against me.
"Well, my answer is simple: our business never, ever, ever, would do anything illegal, we never have, never do, and never will. Whenever we utilize our god-given supreme-court-upheld Right to Refuse ANYONE from standing on our property and doing business with us, we always refuse for one of the LEGAL reasons, of course, whatever they may happen to be, and finally Mr. Lawyer: we don't have to answer your questions about the DETAILS of what we we're thinking during any particular refusal, neither to you nor to a police officer. And even if the police officer, without any admitting testimony from us, were somehow legally able to arrest us on the charge of suspected racial discrimination based on someone's sob-story, when court time comes around we'll simply answer "Not guilty". We don't have to prove our innocence. This isn't some country with Napoleonic justice like Japan. This is America. (And worst case, if the judge really wanted to hear a denial, I can claim that the customer's eyes were darting back and forth suspiciously like someone about to commit a crime or something, and that's why we kicked him out.) Good luck PROVING that I was thinking racist thoughts, you don't know what goes on in my mind. That's why I chose this vague sign. That's why clubs in America use bouncers who are given secret orders to discriminate about who gets in and who doesn't get in. See, we have learned how to continue discrimination while simply pretending the discrimination doesn't exist. You just need a vague sign, or a bouncer who will hide the owners orders about which races are allowed, and which races aren't.
"Now Mr. Lawyer, you too, it's your turn to see my utilize my Right to Refusal. Get off my property immediately. And have a nice day!" 🙂
OK, I'll relate that rant back to the blog post in question by concluding as follows:
At least that branch manager is ADMITTING that he or she discriminates, and that the discrimination is specifically against non-speakers of Japanese.
That's much more honest than the places in America with those vague refusal signs that DON'T admit the real reason they are going to kick you out, and that's much more honest than the places who DON'T post the discrimination reality at all: by using Bouncers who refuse entry to certain races using phrases like "club capacity", "guest list", and "dress code".
If the truth of the matter happens to be that that manager of that branch has decided to ban foreigners simply because he doesn't like them, and the "language" reason on his sign is simply tatemae instead of honne, then forcing him to take down the sign isn't going to solve the real problem, he's simply going to throw up the "batsu" sign whenever a "whitey" or "darkey" tries to walk in.
Problem solved for him, he can simply take down the legally dangerous sign while covertly continuing the discriminatory practice. Great. We won, we stopped discrimination! Or will se simply take down the signs and make the discriminators become more covert as in America? 🙂
//////////////////////////////////////////////////////
DEBITO REPLIES:
2011/01/11 at 7:24 pm
— It's not clear what you are advocating here.
Are you extolling the virtues of having clearly exclusionary signs up because the exclusionary attitudes are clearly more "honest"… therefore more honorable? And a therefore a good thing?
OR
Are you decrying the fundamental "dishonesty" of people who really have to work much harder in other societies ("we reserve the right… to refuse service … to anyone") in order to discriminate — wording their signs or rules more carefully, so as to avoid the mechanisms of societies where anti-discrimination legislation and enforcement authorities are in place?
It's not as easy as you make out in the second case (i.e. just put up a vague sign and presto, covert and unfettered discrimination). There are plenty of means to make sure the exclusionism is not for reasons related to race ("no shoes, no shirt, no service" — put those on and there's no excuse; "not on the guest list" — if you can gather enough evidence to make the case that guests are being selected by race, then you've got a case for court or for local anti-discrimination authorities to investigate), not to mention entire societies sensitized to the issue to the degree where other extralegal means of applying pressure (boycotts, pickets, bad press, and anti-defamation leagues) are also present. There are plenty of means to investigate and tamp down on discrimination once alleged, and it's not as much an uphill battle when society clearly frowns upon exclusionary activity — keeping a beady eye on potential transgressors.
But if you prefer the first case just because it's somehow more "honest" (and you seem to be advocating that the exclusionary sign should stay up — for forcing it to come down merely drives discrimination underground and makes the rules covert), then all those knock-on anti-discrimination means go out the window, since inaction (or action by a tiny vocal minority) makes any protest seem ineffectual, and clear and present exclusionary signs become "the acceptable thing to do". As history shows, discrimination left untouched merely grows, mutates, and ultimately assumes a self-justifying dynamic of "everyone else is doing it; hey, it's so widespread that it's a cultural thing now; it's just how we do things, and what keeps our society running smoothly and orderly…"
So let's be clear. You want exclusionary signs to stay up?
///////////////////////////////////////////////
OG STEVE REPLIES:
2011/01/12 at 1:12 am
I want the victims to be able to make the discriminators PAY, via successful lawsuits.
When a discriminator puts up a sign announcing that he is discriminating against "all foreigners", a photo of this sign becomes easily admissible evidence of his discriminatory POLICY.
Of course, unfortunately, one needs to be a naturalized Japanese citizen to successfully sue (because the Japanese constitution translators changed "people" to "citizens") but the main point is this: AT LEAST, with the signs up, a naturalized Japanese citizen can successfully make the discriminators pay, as you did.
If the bathhouse HADN'T stupidly post that sign stating their company policy, if they simply had quietly refused service one-by-one to "gaikoku-DNA-people" that tried to enter, by throwing up the "batsu" sign with their hands WITHOUT explaining why, it would have been MUCH harder for you to have received that 111 man yen.
WITHOUT the sign, if you took them to court, the company could reply, "No no, it's not our company policy to discriminate against foreigners, not at all. There are a million and one legal reasons why one of our staff might have refused entry to you. And we don't have to prove which one it was. Just for conversation, here are 2 examples: It's company policy to follow fire safety rules, and on that day perhaps we simply might have been at capacity. Who knows. And no, we don't have to prove that we were. Did you happen to collect any proof that we WEREN'T at capacity on that day? No? Then you don't have proof of a discriminatory policy, you simply have a sob-story and speculation about our inner thoughts. Case closed. It's also company policy to protect our staff from anyone who "appears" or "seems" to be possibly dangerous, regardless of race, gender, age, etc., and on that day perhaps one of our staff simply might have made a case-by-case judgment call, which is both his right as an employee, and our right as a company. (As they say in America, "We have the right to reserve service to ANYONE, we don't have to prove the reason each time, we simply can no longer post those explicit 'No Coloreds' signs like we used to.) So, did you collect any proof that the staff member who refused you DIDN'T feel you looked dangerous? Of course not. To re-iterate, our company does NOT discriminate against foreigners, and we don't have to prove our innocence, the onus is on YOU the PLAINTIFF to prove that we have a racially discriminatory policy, and without any sign on the wall… it's going to be very hard for you to prove. And worst case, even if you prove that the staff member was racist, even if you recorded a verbal conversation with that staff member telling you to get out because you don't look Japanese, you STILL can't prove that it was company policy unless you have a photo of a sign or a company manual, so we'll just quietly "fire" the isolated racist staff member for his "disobeying" our official company policy of "non-discrimination" (and perhaps we'll rehire him a few months later, after he has been "counseled" and "reformed", but the main point is, you lose the lawsuit, because you have no proof of a racially discriminatory COMPANY POLICY."
Debito brother,
I want the naturalized Japanese citizens to take photos of signs which stupidly admit the policy of discrimination, so that the judges will be more likely to rule that the business with the policy of discrimination has to pay the plaintiff.
After we naturalized Japanese citizens get properly paid for the stress of these businesses with openly posted policies of discrimination (say, 7 successful lawsuits per naturalized Japanese citizen = 777 man yen, ka-ching), THEN those racist loser company owners will take down their stupidly-honest signs and start using the clever-hidden legally-unprovable discrimination-techniques: by putting up signs that say "ANYONE" without ever admitting the reason, or by foregoing the signs all together and simply refusing folks one-by-one, case-by-case, without ever admitting the reason.
PS – As I recall, the Japanese constitution doesn't even forbid PRIVATE COMPANIES from discriminating against Japanese citizens, it simply forbids GOVERNMENTS from discriminating against Japanese citizens. Oops, thanks a lot for that limiting qualification, American writer of Japanese Constitution.
And as I recall, even the American constitution itself doesn't forbid PRIVATE COMPANIES from discriminating against customers, there simply are STATUTES that forbid discriminatory HIRING practices, which is why companies throughout America openly post signs that say, "Right to refuse ANYONE."
Final Re-cap:
If the sign says "We refuse Foreigners", the racist policy is thus posted, it is easy for naturalized citizen victims to get compensation for feelings hurt due to being refused.
If there is no sign, if the racist policy is thus hidden, it becomes almost impossible for victims to get compensation for feelings hurt due to being refused.
And if the sign cleverly says "Right to refuse Anyone", the racist policy is thus hidden, it becomes almost impossible for victims to get compensation for feelings hurt due to being refused.
I hope you feel me, I'm not trying to be argumentative at all, I'm simply pointing out some facts are ironic, embarrassing, surprising, unjust, often unnoticed, and painful to admit. 🙂
//////////////////////////////////////////
DEBITO REPLIES
January 12, 2010, 8AM JST
Thanks for the reply. Some answers:
1) You don't need to be a naturalized citizen to win against these exclusionary establishments. Ana Bortz (a NJ) won against her exclusionary store without J citizenship. I believe we would have won against Otaru Onsen Yunohana even if I had not naturalized. My being a citizen closed one potential loophole, but it could go either way depending on the judge. And that leads me to my point:
2) Leaving it up to the Japanese judiciary to resolve this situation is extremely risky. We have had at least one other case (Steve McGowan) where we had the manager of a business saying on tape that he doesn't like black people and he refused Steve because he is black. The judge still refused to rule in Steve's favor, discovering a technicality he could exploit (which was later fortunately overturned in High Court). Build up enough of these precedents, and you'll actually arm the defense. I'd prefer not to leave it up to Japanese judges, rather to law enforcement authorities and a clear legal code (hence my need for a law).
3) Leaving it up to naturalized citizens to play "Japanese Only Sign Whack-a-Mole" is untenable, since court cases take years, cost money and great amounts of mental energy, and incur great social opprobrium (given the general distaste for lawsuits in Japanese society). Clear and present evidence is one thing. Advocating that signs stay up as lawsuit bait or legal entrapment is a losing strategy.
4) As I said earlier, exclusionary signs beget more of the same, through copycatting and clear institutionalization of an action. Exclusionary signs must come down, and a legal framework of protections against racial discrimination must be enshrined. That's asking for a lot at this juncture, so I'll accept the half-measure having the signs forced down for now, even if that allegedly deprives people of evidence to sue (it doesn't: you get refused, threaten to sue, the sign comes down and you still sue, you still win, since you were still refused regardless of the present circumstances; the damage is done, as this is what happened in the Otaru Onsens Case).
If you haven't read book JAPANESE ONLY yet Steve, I really suggest you do. It'll also ground you in the dynamic of why your suggestions won't stop the discrimination. Nothing will, short of a law backed up by sanctions. That's why the UN CERD strongly advises one.
I'll let the legal scholars out there comment more authoritatively on the "kokumin" aspects of the constitution and law enforcement, but my lawyers have told me repeatedly that Japanese Constitutional protections apply to non-citizens too, despite the wording, if you'd dare to push the issue in official mediating bodies.
Now let's open the floor up for discussion. Pile on. Arudou Debito