mytest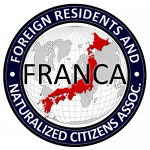 UPDATES ON TWITTER: arudoudebito
DEBITO.ORG PODCASTS on iTunes, subscribe free
Hi Blog.  The Yomiuri is in full trumpet about foreign crime again — this time concluding (in an article that does develop the causes of some severe NJ suffering) with a quote from an elderly somebody about coexistence with foreigners being perhaps but a dream.  A friend of mine offlist was quite critical of yesterday's NYT article as an "anecdote-laden piece of fluff". Okay, but check this one out:  Nothing but anecdotes and nary a reliable stat in sight.
One thing I'm not quite getting is the connection between Lehman and foreign crime.  Is Japan's economy so fragile that one event could ruin it?  Don't businesses make their own decisions, or sovereign countries have responsibility over their own fiscal and monetary policies?  Or is this another way of pinning Japan's woes on foreigners?
As one submitter JK put it:  "I'd like to start off 2011 by taking a step back to 2008 where リーマ ン・ショック which has been the whipping boy for many of Japan's ills. Add to the list another societal woe: Foreign crime. In a perverse way, I am surprised that this has taken so long to make it to press."
Had a quick but unsuccessful look for the Japanese original online at the Yomiuri.  Anyone else find it, please send article and link?  Thanks.  Arudou Debito
//////////////////////////////////////////
Foreign crime hits local areas / 'Lehman shock' felt in surge of thefts by Japanese-Brazilian teens
The Yomiuri Shimbun (Jan. 4, 2011), courtesy of The Club and JK
http://www.yomiuri.co.jp/dy/national/T110103002561.htm
A dozen foreign workers were silently sorting out used motorbikes, bicycles, TVs and washing machines piled up in a secondhand store's storage yard guarded by fences up to three meters high on the outskirts of a commuter town in central Kanagawa Prefecture.
About 10 kilometers from the yard, there is a district with a large number of people from Southeast Asian countries. One resident said that the secondhand shop would buy even stolen goods.
"Now we are doing our business properly, only with customers whose identification we have confirmed," said the 53-year-old shop owner, a former Vietnamese refugee who acquired Japanese nationality 20 years ago.
"Last year, when the business slump severely hit us, many stolen items were brought in here–even a power shovel," he said.
"Last year, many foreign temporary workers got fired due to the recession. As a result, many young foreign residents began to support themselves through crime because their parents could not earn any more," the 24-year-old son of the shop owner said.
There are 55 districts in Shizuoka, Aichi, Gunma and a dozen other prefectures where many foreign factory workers and their families have settled since around 1990.
Many families in such communities do not send their children to school because of language barriers and different views toward education. As a result, young foreign residents who are not in school tend to flock together during the day and sometimes run wild in the area. They are seen as a major reason for the deterioration of public safety in such areas.
In a bid to solve this problem, the central government and local governments have dispatched interpreters and assistant language teachers to primary and middle schools to help the children of foreign residents study.
Such efforts helped decrease the incidence of juvenile delinquency and crime in Oizumimachi, Gunma Prefecture, which has about 6,400 non-Japanese residents, after such problems hit a peak in 2007.
However, the bankruptcy of the U.S. major brokerage house Lehman Brothers changed the situation in many other areas of Japan that have large numbers of foreign residents. It ignited a global recession, negatively affecting Japan's firms and eventually depriving many foreign factory workers of their jobs.
In the Homigaoka district of Toyota, Aichi Prefecture, where nearly half of the 8,000 residents are Brazilians of Japanese descent, many boys can seen hanging around at night in front of convenience stores, even in the cold of winter.
"After Lehman Brothers' bankruptcy, our shoplifting damage jumped to 100,000 yen per month–three times higher than before," said the 58-year-old owner of one convenience store in the district.
Another convenience store owner, 30, said: "Most of the 30 shoplifters we caught in a month [at that time] were Japanese-Brazilian boys."
Kazuto Sergio Matsuda, a 55-year-old company employee, who moved to the Homigaoka district about four years ago, reached the point at which he could not stand by and watch this situation any longer. So he became the first Japanese-Brazilian member of the regional anticrime patrol in April 2009.
Through the patrol activities, Matsuda saw many Japanese-Brazilian families falling apart when fathers who had lost their jobs did not come home for many days as they searched for work, prompting mothers to go to out to work for a living and driving their children to juvenile delinquency as a result.
"I think children also are victims of the global recession. But if we simply ignore this situation, they will become increasingly isolated from their community when they've grown up," Matsuda said.
The 79-year-old leader of a community group says he also feels that relations between longtime Japanese residents and Japanese-Brazilians have become more distant and remote.
"We need efforts to compromise with each other. But it's extremely difficult for us to communicate with them because there are so many delinquent children," he said. "Living in harmony with foreign residents might be just a dream."
ENDS