mytest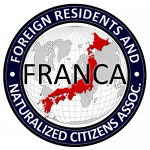 UPDATES ON TWITTER: arudoudebito
DEBITO.ORG PODCASTS now on iTunes, subscribe free
Hi Blog.  Here's something to kick the weekend off:  A whiny article by the Asahi picking on Chinese tourist spending habits.  It's not that they don't spend, oh no; it's more that they don't spend PROPERLY.  They spend too much of their time SHOPPING!  Heavens to Murgatroyd!  I think Japan's media in this economic climate should be happy that rich Chinese are coming here to spend at all (and not staying on to trouble Japanese society through illegal overstays); they're already being sequestered in some places.  But no, we'll get the grumbles that they're not getting out enough anyway.  What would be the perfect tourist in Japanese media eyes, I wonder?  What would be the perfect consumer, period?  Dare anyone criticize the Japanese public for their underconsumption, then?  Arudou Debito in Sapporo
/////////////////////////////////////////
China tourists stingy in some areas
BY ETSUSHI TSURU THE ASAHI SHIMBUN
2010/06/16 Courtesy of Peach
http://www.asahi.com/english/TKY201006150338.html
Japanese businesses and local governments that have gone all out to win over the throngs of Chinese tourists are finding that their guests can be a frugal bunch at times.
The Chinese tourists have shown a tendency to scrimp on accommodations and meals and bypass tourist attractions for the main purpose of their trips–buying electronic appliances and designer brand clothing and accessories.
Industry officials said if Japan wants to truly capitalize on the roughly 480,000 Chinese who visit Japan each year, it will have to do much more to convince the tourists that there is more to Japan than just shopping.
"Many of the points of interest, meals and souvenirs that Japanese are promoting are of little interest to Chinese," said Ke Yue, president of public relations company Japan-China Communication Co.
Ke said Japan's strategy should include nurturing human resources to specialize in the needs of Chinese tourists, whose numbers show no signs of slowing down.
A fierce price war has erupted over tours to Japan, with the price of a five-night, six-day packaged trip being offered for as little as 4,000 yuan (about 53,000 yen or $577) to 5,000 yuan.
According to an executive at a Chinese tourist agency, companies are eking out profits by cutting costs for meals and accommodations.
As a result, 90 percent of the packaged group tours are handled by Chinese, Hong Kong or Taiwanese businesses because few Japanese tourist companies would be able to generate a profit.
In Kisarazu, Chiba Prefecture, located at one end of the Tokyo Bay Aqua-Line highway that spans Tokyo Bay, the number of Chinese who stayed overnight soared thirteenfold from 2,089 in 2005 to 26,162 in 2009.
The rise was attributed largely to the change in management at the Tokyo Bay Plaza Hotel in the city in 2006, when the current owner, a Japanese national originally from China, took over.
But the influx of tourists has not led to increased income for local businesses in the area.
According to Tokyo Bay Plaza Hotel staff, most Chinese simply use the hotel as a launch pad to travel across the bay and spend their money at stores in the Ginza and Akihabara districts of Tokyo.
The tourists' shopping priorities are also reflected at the Taiyoro restaurant on the 47th floor of the Apa Hotel & Resort Tokyo Bay Makuhari in Chiba, which is usually packed with Chinese tourists on weekends.
"Ninety-five percent of our customers are group customers. Of them, 70 percent are Chinese," said Akiharu Taiyoro, operator of the Taiyoro chain of restaurants. Taiyoro, a Shanghai native who became a naturalized Japanese in 2006, operates 10 restaurants in such tourist destinations as Tokyo and Osaka.
In 2009, more than 1.18 million people dined at Taiyoro's buffet-style restaurants, which offer all-you-can-eat lunches for 1,500 yen, and dinners for 2,000 yen, plus free soft drinks, for two hours.
Tour groups accompanied by guides can receive a 30-percent discount.
Taiyoro said he visits China every other month to negotiate with travel agencies there.
"Chinese tourists come to Japan to shop, so they like to finish their meals quickly. The average tour group will spend about 45 minutes eating at our restaurant before a new group comes in. So it is a low-margin, high-turnover business, but it's profitable," he said.
In Fukuoka, where 66 cruise ships from China are scheduled to call port this year, city officials have estimated an economic windfall of 2.89 billion yen from the Chinese visitors.
But according to a travel agency official in the city, the cruise ships moor in Fukuoka for only about 10 hours, and most tourists are more interested in shopping than taking in the sights.
The central government has eased visa requirements for individual tourists and increased promotion campaigns to lure more Chinese tourists to Japan.
But experts say this may not be enough to spread the wealth.
"Japan must rush to create an environment that allows visitors to freely enjoy their visit," said Du Guoqing, an associate professor of tourism at Rikkyo University.
Du, for example, pointed out that the inability to use Chinese driver's licenses in Japan deprives the tourists of a chance to see much of the country.
ENDS