mytest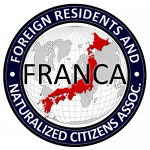 UPDATES ON TWITTER: arudoudebito
DEBITO.ORG PODCASTS now on iTunes, subscribe free
Hi Blog.  Dovetailing with the recent Debito.org posts showing China's increasing domestic influence over Japan's economics (here and here), below we have some newspaper articles (Japanese, couldn't find English anywhere) noting that Toyoko Inn has opened a new hotel complex in Sapporo Susukino that caters exclusively to Chinese.  The Nikkei and the Yomiuri call it "Chuugokujin sen'you hoteru" below, smacking of the "Nihonjin Sen'you Ten" wording used for signs in Russian excluding all foreigners entry from businesses in Monbetsu, Hokkaido (i.e. only Chinese are allowed to stay in this hotel).  Local Doshin only mildly mentions they are "Chuugokujin muke" (catering to Chinese).
I'm pretty torn by this development.  On one hand, here is an unusually progressive business initiative in hiring and catering to NJ (with nary a mention of  all the "different culture resulting in the inevitable frictions" that was a undercurrent of much domestic reporting about, say, Australians investing in Niseko).  Supply and demand, you might say, who cares if the money is from Chinese.  Fine.
On the other hand, however, we have the Balkanization of the hotel industry, with NJ being assigned their own special gated community (in violation of Japanese law; choosing customers by nationality is unlawful under the Hotel Management Law), with again nary a question about the legality.
And again, this is the Toyoko Inn, with its history of special policies for racial profiling and declining hotel rooms (or threatening to) to "foreigners", including residents and naturalized citizens, who do not show their Gaijin Cards.  Not to mention embezzling GOJ funds earmarked for handicapped facilities.
In short, I smell a rat.  Yet more opportunism and questionable legal practices by Toyoko Inn.  I'd recommend you not patronize them, but then again, unless you're a Chinese reading this, you probably can't stay at the hotel in question anyway.   Arudou Debito in Sapporo
///////////////////////////////////////////
東横イン、札幌に中国人専用ホテル 来月開業 :日本経済新聞
http://www.nikkei.com/news/local/article/g=96958A9C93819491E0E4E2E2E38DE0E4E2E7E0E2E3E29EE6E3E2E2E2
///////////////////////////////////////
– 中国人客専用ホテル…札幌にきょう開業 –
開業を前に接客の練習をする中国人スタッフら(31日午後、札幌市中央区で)=三浦邦彦撮影
(2010年6月1日 読売新聞)
http://www.yomiuri.co.jp/e-japan/hokkaido/news/20100601-OYT8T00026.htm
ビジネスホテルチェーンの東横イン(東京)は、道内で増加している中国人観光客に対応するため、札幌市中央区南6東2にある「札幌すすきの南」を1日、中国人客専用の「東横INN札幌薄野南」として改装オープンする。フロント係やレストランのスタッフに中国人を採用したほか、施設内の案内表示を中国語に変え、全客室で中国のテレビ番組が見られるようにした。
札幌市内の5店舗を含め、国内などで約220店舗を展開する同社で初の試み。
道内を訪れる中国人観光客は、道のまとめで08年度が4万7400人と、98年度の1900人の約25倍と大幅に増えている。今年7月には、個人観光ビザの発給要件が緩和され、さらに中国からの団体ツアーなどの増加が見込めるため、集中的に受け入れサービスの充実を図る。
客室は家族連れらを見越し、既存のトリプル(2室)以外はツインに統一し、朝食に中華がゆも提供する。今後は支配人に中国人が就き、銀聯(ぎんれん)カードでの決済も検討していく。
31日はオープンを控え、フロントに新規採用された男女4人の中国人従業員が、チェックイン時の応対などについて、日本人従業員から指導を受けた。1日は、既に団体ツアーの予約が入っているという。
ENDS
//////////////////////////////////////////
東横イン 札幌に「中国人向け」6月開業 接客、食事に工夫(05/28 06:40)
http://www.hokkaido-np.co.jp/news/economic/233803.html
ビジネスホテル運営の東横イン(東京)は6月1日、中国人観光客に照準を合わせたホテルを札幌市内に開業する。増加傾向にある中国人客の受け入れ態勢を整備するとともに、中国語対応の人材や設備を一つのホテルに集約して経費削減を目指す。
ビジネスホテルとして現在運営している札幌すすきの南店(中央区南6東2)を改装。4人の中国人従業員を配置するほか、約200の全客室で中国国営放送を視聴できるようにし、朝食に中華がゆも用意する。
東横インは札幌市内に5ホテルを展開。各ホテルに分宿している中国人客をすすきの南店に集める。中国人客向けの施設整備や中国人従業員の配置を集約でき、経費節減効果も期待できる。
昨年の中国人の道内宿泊者数は前年比7割増の18万3千人で、今年2月の春節(中国の旧正月)以降、増加傾向に加速が付いている。7月から個人観光ビザ発給対象が中間層まで拡大される予定のため、中国人来道者の増加期待が高まっている。
ENDS
———————————-
UPDATE JUNE 10 4:15 PM
I called Toyoko Inn Susukino Minami at 011-551-1045 and got a very friendly female clerk. Our conversation went something like this:
"Hi there. I heard about your place in the newspaper. Just wanted to ask: Does your hotel accept only Chinese guests?"
"That's correct. Only Chinese."
"You mean Japanese customers are refused too?"
"That's right."
"And all other foreigners other than Chinese are not allowed to stay?"
"That's right."
"Er, isn't that against the Hotel Management Law?"
"Yes, it probably is."
We started laughing, and I said, "This is the first hotel I've heard of in Japan where even Japanese guests are refused."
"Yes, quite. It's a funny situation, isn't it."
I appreciated the candor, but the question still remains: What the hell is going on, and why is nobody calling Toyoko Inn on the unlawfulness of the situation? Instead, we have newspapers promoting them as such without any analysis?
What a bent hotel chain the Toyoko Inn Group is.
ENDS