mytest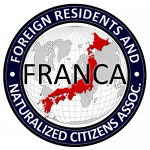 UPDATES ON TWITTER: arudoudebito
DEBITO.ORG PODCASTS now on iTunes, subscribe free
Hi Blog.  I'm busy working on my next Japan Times JUST BE CAUSE column (out February 1, addressing concerns I have, and other naturalized Japanese citizens have, when other long-term and naturalized residents called themselves "foreigners" in the Japan Times December 28).  So for today, a short entry:
It's good news.  Record numbers of tourists coming in last year and pumping money into our economy.  I may have had some cross words here in the past about how NJ tourists are being treated once they get here, but why speak ill of this development?  Bring them in and show them a good time — everyone wins.  Let's just hope that people will see sense and not decide to exclude NJ from their business just because there's nothing legally stopping them from doing so.  Arudou Debito
////////////////////////////////
Foreign visitors to Japan hit record-high 9.44 mil in 2010
Kyodo News/Japan Today January 17, 2011
http://japantoday.com/category/travel/view/foreign-visitors-to-japan-hit-record-high-9-44-mil-in-2010
TOKYO — The number of foreign nationals arriving in Japan last year rose 24.6% from a year earlier to a record-high 9,443,671 due to the economic recovery in Asia and the relaxation by Tokyo of visa regulations for Chinese tourists, government data shows.
First-time travelers to Japan also reached an all-time high of 7,919,678, up 29.4% from 2009, the Immigration Bureau of the Justice Ministry said in a preliminary report.
The number of foreign visitors topped 9 million for the first time in 2007 at about 9.15 million, but dived to around 7.58 million in 2009 amid the global economic downturn triggered by the financial crisis from autumn 2008.
Among the 2010 total, South Korean visitors accounted for the highest number at around 2.69 million, up 46.4%, followed by Chinese at 1.66 million, up 34.4%, visitors from Taiwan at 1.31 million, up 22.9%, and Americans at 760,000, up 4%.
The monthly breakdown showed, however, that visitors from China and Hong Kong declined to between 110,000 to 160,000 in the final quarter of the year from about 190,000 in September, apparently reflecting political tension between Japan and China following collisions in early September involving a Chinese trawler and Japanese patrol vessels near the disputed Senkaku Islands in the East China Sea.
The number of Japanese traveling abroad increased 7.7% to 16,636,999 last year, the first rise in four years.
Japanese travelers departing from Haneda airport for foreign destinations exceeded 190,000 in both November and December, up from around 90,000 in October, as the airport resumed full-fledged international flight services in late October.
ends