mytest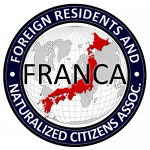 UPDATES ON TWITTER: arudoudebito
DEBITO.ORG PODCASTS now on iTunes, subscribe free
Hi Blog.  Back in December, exchange student Laura Petrescu offered a guest blog entry outlining the problems she had with Japan's lack of support for NJ scholars coming on scholarships to Japanese universities, in particular Osaka University of Foreign Studies.  It was a very thoughtful essay which sparked a lot of discussion.  Now Laura has decided she's just plain had enough, after three years here, and is getting out.  Here is an update on her situation and her reasons causing her decision.
This is bad news for Japanese institutes of higher education, which sorely need students due to the declining birthrate, and for Japan's industrial prowess, which is poorly served by a system that cannot reap the benefits of international students being trained through our tax monies for our job market.  Arudou Debito in Calgary
///////////////////////////////////////////////////
Dated January 29, 2010
Hello, blog! This is Laura Petrescu again – the MEXT scholarship grantee who shared her studying experience with you all last year.
First of all, for those of you wondering why my story would be worth an update, here's a little food for thought: what happened to me, and to other foreign students who were too bitter or too afraid to come out in the open, isn't just a problem of one individual who couldn't quite get used to living and studying here. It's an entire system that rounds up gifted high-school graduates from around the world and brings them to Japan, but stops there; there are no follow-ups, no inquiries about students' problems and general well-being, and everything is left to the universities where said graduates are placed. And, as I tried to point out in my other essay, some of these universities are not prepared to accommodate and deal with foreign students.
Before I go on, I want to thank the posters who offered their sympathy and support after the first article was published. To those who questioned my story or pointed out what I did wrong, that's your opinion, and I respect it. Maybe my writing wasn't clear enough… maybe different people perceive the same situation differently. Thank you for taking the time to read my story nonetheless.
On to the point: long story short, I've decided to waive my scholarship and return to my home country.
There are two reasons for my decision. Firstly, I'm sure that, at this rate, I wouldn't be able to graduate. For one thing, I was failed through one of the mandatory courses to advance to the next year – by the teacher that wouldn't acknowledge sickness as a valid reason to miss a class. Also, the research group I was assigned to for another mandatory class ignored me altogether and then complained that I wasn't doing anything, so I would've likely failed that project, too. (Mind you, I tried to get involved – but being completely ignored when trying to offer a suggestion or improvement, or volunteer for a task, gets tiresome after a while.)
The second reason is that the quality of teaching overall is definitely not what I'd expected. I spent two years at my current university and I only learned a few things that could be considered useful for my field. I learned infinitely more through self-study and an online course.
It took me several months to come to this decision, and in the meantime, I started going to classes less and less. I just couldn't bring myself to face it anymore. I doubt that my academic adviser or the people at the International Relations office noticed or bother to do anything. Thinking back, I think that by this point, they had already decided I was more trouble than I was worth. After all, I'm not the one to "humbly understand" that "these things happen" (from racist and inappropriate remarks to unjust grades, being excluded by my classmates and even one attempt of ijime that didn't go down so well for the bully). Anyway, when I told them about my decision, they didn't seem surprised. Quite the contrary. The International Relations people were very quick to agree that "this is probably the best thing for me" and one of then urged me to leave "as soon as possible" because it must be "so hard" ("tsurai desu ne?") being someplace I didn't want to be. Not one word was said about why I want to leave, or about what could be done to solve the problems on their end. I wasn't asking for a top-to-bottom reform of the way they do things at the university or anything of the sort… just for a bit of help and understanding, and for intervention where it was needed (re: repeated inappropriate comments, etc.). Because sweeping a problem under the rug or pretending it never happened only makes it worse.
I'm off to file my papers on Monday and out of Japan in two weeks. Of course, MEXT won't pay for my ticket, so that's another few hundred thousand yen out of my family's pocket. The only case in which they'd pay would be if I retired due to illness… I guess GAD (see below) doesn't count as illness in their book, even though I largely suspect all the stress and pressure I've had in the last three years is what triggered it in the first place.
"But Laura", some readers might ask, "why do we need to know all this?"
Prospective MEXT students need to know all this. Having this information can help them decide whether it's worth to spend five years here, re-learn everything they thought they knew about Japan, struggle to fit in, be treated questionably time and again, and possibly not learn anything beyond the absolute basics of their field, just to get a piece of cardboard that says they graduated from a Japanese university. Not to mention that the allowance is hardly enough to get by once they get kicked out of their dorm – and everyone gets kicked out of their dorm after a year (or two, if they're lucky), and most of the small university taxes are NOT paid by MEXT (I had to pay roughly 80.000 JPY when I enrolled, no idea what those were for, but there you go). Add that to the cost of moving to another city (which most foreign students have to do after their preparatory year) and later on, the key money, etc., required to move to an apartment or mansion, and it's obvious that not only the students, but also their families will probably have to make considerable efforts as well.
Of course, I admit I'm biased here. I read the comments for my original story and I'm really happy for the people who actually had a fun and worthwhile experience here. Sadly, I'm not one of them.
I've wasted three years of my life here, and struggled every step of the way. I learned the language to the point where I could engage in fluent conversation and read just about anything. Writing was slow and difficult, but the important thing is, I could write (much to the astonishment of some professors). I studied the customs and mannerisms, relevant laws, and even keigo. I tried to make and keep friends, but ultimately got tired of the whole 'petting zoo' attitude most of the Japanese showed ("Hey guys, this is my gaijin friend! She can speak Japanese! And she can read, too!" "Wooooow…"). I'm giving up because I feel burned out. There's only so much crap one can take before finally snapping.
Note: I was talking about GAD (General Anxiety Disorder) before. Back home, I only had a mild social anxiety problem which went away on its own. After I came to Japan (and especially after I moved from Osaka to Tokyo), it got much, much worse. Anyone who has suffered a panic attack knows how debilitating it can be – the bad ones can leave you disabled for a good few hours. Anxiety and panic attacks did me in for the first two years – that's why my attendance was low to begin with (since it got brought up a lot in the comments of my previous post). The reason I didn't include this with my original story is that it could probably be used to figure out who I am.
ENDS