mytest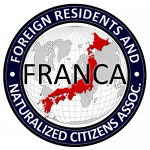 Hi Blog.  Writing you from Tokyo, just a quick post.
I'm on the road from now until April 1, stopping in Tokyo, Tsukuba, Nagoya, Shiga Hikone, Osaka, Okayama, and Kumamoto.  Showing an hourlong documentary on Japan's hidden NJ labor force, SOUR STRAWBERRIES, in case you haven't heard, at venues there.  Come and see it if you like.  Screening schedule here.
So in the interim I'm not sure when I'll be online (every morning provided I have internet access, and probably most evenings after the movie and beers with friends), but I'll try to approve posts as quickly as possible.  I also can't guarantee a daily update with a new post and commentary, but I'll try.  
If people have essays they want put up (Mark in Yayoi sent me a doozy today), please pass them by me at debito@debito.org.  And you'll get another Japan Times article (not a 700-word JUST BE CAUSE column, but a full-blast 1500 word ZEIT GIST article) next Tuesday March 24 if you're feeling lonely.
Meanwhile, thanks to everyone out there for the support and hospitality.  Arudou Debito in Tokyo.