mytest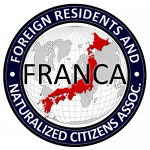 Hi Blog.  I received word a couple of days ago from James and AS about a schoolteacher in Mie-ken who dealt with a suspected theft by taking everyone's fingerprints, and threatening to report them to the police.  He hoped the bluff would make the culprit would come forward, but instead there's been outrage.  How dare the teacher criminalize the students thusly?
Hm.  Where was that outrage last November 2007, when most NJ were beginning to undergo the same procedure at the border, officially because they could be agents of infectious diseases, foreign crime, and visa overstays?  How dare the GOJ and media criminalize NJ residents thusly?
I'm not saying what the teacher did was right.  In fact, I agree that this bluff was inappropriate.  It's just that given the sudden outrage in the media over human rights, we definitely have a lack of "shoe on the other foot" -ism here from time to time.
The articles haven't appeared in English, but no problem.  Here are some links in Japanese, and I'll translate one article.  Arudou Debito in Sapporo
=======================
担任が学級全員の指紋 三重・海星高
2009年1月27日 朝刊 中日新聞
 三重県四日市市の私立海星高校で、1年生の生徒から「体育の授業の間に携帯電話のメモリーカードがなくなった。盗まれた」と訴えられた担任の男性教諭(57)が、同じ学級の生徒27人全員の指紋を採り、「警察に届ける」という趣旨の発言をしていたことが分かった。
 西田秀樹校長は「人権にかかわる問題」と不適切だったことを認め、「生徒や保護者に謝罪し、職員の指導を徹底したい」としている。
 同校によると、今月21日、体育の授業後の昼休みに、男子生徒1人が教諭に報告した。携帯電話は、柔道場で行われた体育の授業の前に生徒全員の分が集められ、貴重品とともに袋に入れて柔道場内に置かれ、授業後に返されていた。
 教諭は同日のホームルームで「指紋を採って(警察などに)届けて調べてもらう」と話し、27人全員に、指に朱肉をつけさせて紙に押させた。実際には警察には届けなかった。教諭は「盗んだ人が早く名乗り出てほしいという気持ちからやってしまった」と話しているという。
 西田校長は「(メモリーカードの紛失が)内部の人間に違いないと思ったのだと思うが、あってはならないこと。処分も考えている」と話している。
(translation by Arudou Debito)
Homeroom teacher fingerprints all of his students:  Mie-ken Kaisei High
Chuunichi Shinbun January 27, 2009, Morning Edition
[Mie-ken Yokkaichi] At Kaisei, a private high school in Yokkaichi, Mie Prefecture, a homeroom teacher (57), who heard accusations from a freshman that somebody had stolen his cellphone memory card during PE, took fingerprints from all 27 students in class, and said that he would report them to the police.
Principal Nishida Hideki was quoted as saying, "This is an issue of human rights", acknowledging that this action was inappropriate.  "We have apologized to the students and their guardians, and will thoroughly admonish our staff member."
According to the school, on January 21, during lunch break after PE, the student reported the incident to the teacher.  The keitai had been collected from all students as personal valuables before PE in the dojo, placed in a bag left in the dojo, and given back after class.  
The teacher that day said, "I'm taking your fingerprints and will let the police analyze them",  forcing all students to put their fingers on red inkan pads and render their fingerprints on pieces of paper.  The teacher apparently said, "I did this because I wanted the thief to reveal himself quickly."
Principal Nishida said, "I think there was definitely a case where somebody in this class was involved in the loss of that memory card, but this was not the way to deal with it.  We're considering disciplinary action."
ENDS
==================================
Dozens more articles here:
http://news.google.com/news?client=safari&rls=en&oe=UTF-8&ie=UTF-8&hl=ja&resnum=5&ncl=1270450770
==================================
And AS adds:
Hi Debito,
I caught a story on the news last night (News Watch 9, 9:00pm 1/27 broadcast, channel 1) about the community outrage that resulted from a teacher fingerprinting his students in Mie prefecture.
Apparently what happened was that a boy in the teacher's homeroom class reported that the memory card for his cell phone was missing. The teacher asked repeatedly for the culprit to come forward, and when nobody did he decided to fingerprint everybody in the class. When asked by the principal why he did this, the teacher said he was disappointed that nobody came forward on their own, and he thought that by doing something so serious and dramatic that it would prompt the offender to confess. The teacher's logic is very odd since 1) there is no way for him to analyze prints and 2) there is no suspect print for him to compare the samples to, so it's obviously intended solely as a scare tactic.
Anyway, the part that interested me was the reaction from the community and the school. Everyone agreed that it was completely inappropriate, and that the teacher was treating the students like criminals. One person said that it unnecessarily caused hurt feelings and embarassment among the students, and another said that teachers should treat their students with more trust.
While this case is obviously very different from the fingerprinting of foreign nationals at the border, it does show once again that there is a double-standard in how Japanese view fingerprinting. If the people involved are Japanese, then it is a very serious issue and the dignity of the individual must be preserved. If the people are NJ though then there is little thought given to issues of dignity, privacy, or convenience.
Anyway, I thought you might want a heads-up to look for articles covering this story to add to your archive.
ENDS