mytest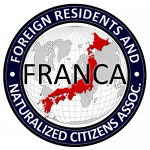 Hi Blog.  Just can't resist.  Kyou no iyami:
With all the talk and blame about "Monster Gaikokujin" (fish lickers, onsen defilers, cabbie bashers, golddiggers), how about the drunk antics of our former finance minister, Nakagawa Shochu, excuse me, Shouichi?  Setting off an alarm and sticking his hands all over private world-heritage artifacts in The Vatican?   Not Monster Gaijin.  Monster Daijin.
Fortunately, this made NHK on Friday.  Fire away with more acerbic comments.  I want the rest of my Sunday off.   Debito in Sapporo
=================================
Nakagawa also misbehaved at Vatican Museum
The Japan Times: Sunday, Feb. 22, 2009.  Courtesy of Getchan
http://search.japantimes.co.jp/cgi-bin/nn20090222a2.html

BELGRADE (Kyodo) Former Finance Minister Shoichi Nakagawa engaged in some shenanigans during a visit to the Vatican Museum immediately following his highly ridiculed Group of Seven news conference in Rome, people at the Vatican said Friday.
At one point, Nakagawa climbed over a barrier around the statue of the Trojan priest Laocoon and His Sons, causing an alarm to go off. He also touched pieces he was not supposed to, they said.
The officials apparently didn't find Nakagawa's behavior to be a serious problem at the time, and the museum will not raise a protest, the sources said.
Nakagawa went to the museum for about 1 1/2 hours in the afternoon with senior officials from the Finance Ministry. They were accompanied by museum officials.
Nakagawa's office on Saturday released a statement saying "He has been feeling ill and we are very sorry that he has caused troubles."
He resigned Tuesday after drawing attention Feb. 14 by slurring his words and seemingly dozing off during a press briefing held after the G7 financial chiefs' meeting about the deteriorating world economy.