mytest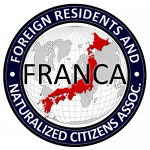 Hi Blog.  On the road in Tokyo Kagurazaka, showing documentary SOUR STRAWBERRIES tonight in Shinbashi (tomorrow in Takadanobaba), something simple for today.
Heads up to tell you about my next Japan Times Zeit Gist article (my 47th), out tomorrow, Tuesday March 24 (Wednesday 25th outside conurbs).  Talking about Japan's criminal justice system and how it treats NJ suspects and defendants differently by nationality.  An excerpt to whet the appetites:
"Examine any justice system and patterns emerge. For example, consider how Japan's policing system treats non-Japanese. ZEIT GIST has discussed numerous times (Jul. 8 2008, Feb. 20 and Nov. 13 2007, May 24 2005, Jan. 13 2004, Oct. 7 2003) how police target and racially profile foreigners under anti-crime and anti-terrorism campaigns.
"But the bias goes beyond cops and into criminal prosecution, with Japanese courts treating suspects differently according to nationality. We've already discussed how judges discount testimony from foreigners (ZG Aug. 14 2007), but here's the emerging pattern: If you are a Japanese committing a crime towards a non-Japanese, you tend to get off lightly. Vice versa and you "haven't a Chinaman's chance," as it were…"

Get a copy of the Japan Times from the newsstands tomorrow and read the rest! Arudou Debito in Tokyo.