mytest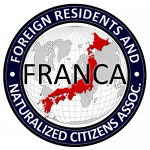 Hi Blog.  Here's something interesting, courtesy of alert reader M-J:
Japan's ministries are bickering with each other over an NJ issue (tourism), demonstrating how MOJ and MLITT are stepping on MOIA's toes and goals.  (Not to worry, alphabet soup defined below.)
Also exposed is how Japan's hotels aren't keeping their legal promises.  They're snaffling tax breaks for registering with the GOJ to offer international service — without actually offering any.  Two articles (AP and Mainichi, E and J) follow.  Comment from me afterwards:
////////////////////////////////////////
Ministry seeks faster entry procedures for foreigners at airports
March 2, 2009, Associated Press
http://www.breitbart.com/article.php?id=D96M81NG1&show_article=1

TOKYO, March 3 (AP) – (Kyodo)—The internal affairs ministry on Tuesday recommended that the Justice Ministry take measures to shorten the time foreign nationals must wait at airports before being able to enter Japan.
The Internal Affairs and Communications Ministry recommendation is intended to help Japan attain its goal of boosting the number of foreign travelers to the country to 10 million a year by 2010.
The ministry also proposed that the Land, Infrastructure, Transport and Tourism Ministry implement steps to improve accommodation services in Japan for foreign travelers.
The Justice Ministry has set the goal of reducing the entry-procedure time for foreign nationals to an average 20 minutes at all airports in Japan.
But the percentage of months during which that goal was achieved came to 0 percent at Haneda and Kansai airports in 2008. The rate stood at 17 percent at Narita airport and 25 percent at central Japan airport the same year.
The latest recommendation calls for the Justice Ministry to review the deployment of immigration control officers at airports to shorten the amount of time foreign nationals must wait.
The recommendation to the tourism ministry includes boosting the number of hotels able to provide foreign-language service.
In 2007, 40 percent of 1,560 hotels where foreign travelers stayed provided no foreign-language service, though they were registered as hotels giving such service in line with the international sightseeing hotel law.
No signs written in foreign languages were posted at 41 percent of those hotels.
ENDS
======================
Ministry says Japan needs to become more tourist-friendly
Mainichi Shinbun March 3, 2009
http://mdn.mainichi.jp/mdnnews/national/news/20090303p2a00m0na012000c.html?inb=rs
The Ministry of Internal Affairs and Communications has made a string of recommendations to other ministries to make Japan more tourist-friendly, including speeding up the immigration process and promoting foreign languages in hotels.
The recommendations are designed to help meet the government's target of 10 million inbound tourists by 2010.
The Ministry of Justice has been asked to reduce the waiting time for foreign visitors at immigration centers.
Average waiting time targets are 20 minutes at the maximum, but during 2008 those waiting for processing had to wait an average of 30.4 minutes at Haneda, Narita International, Kansai International and Central Japan International airports.
At Kansai International Airport alone, that figure shot up to an average of 49 minutes in one month.
The figures are largely the result of the new photograph and fingerprint entry system, which Japan introduced in 2007. While supposedly reducing the risk of terrorism and illegal entry, it has also served to severely slow down the immigration process for foreign tourists.
Other measures include improving foreign-language services at hotels. A survey of 1,560 hotels and inns registered under the Law for Improving International Tourism Hotels showed that 40.1 percent couldn't serve customers in a foreign language, and 22.9 percent said they had no intention of providing such a service in the future.
The law is designed to provide tax breaks to hotels catering to foreign tourists.
ENDS  Original Japanese:
======================
外国人観光:入国審査30分、ホテル対応も不備 改善勧告
2009年3月3日 毎日新聞
http://mainichi.jp/select/today/news/20090303k0000e010032000c.html
 来日した外国人の入国審査に時間がかかり過ぎているとして、総務省は3日、法務省に改善を勧告した。またホテルなどでの外国語での対応に不十分な点があるとして国土交通省に改善を勧告した。
 総務省は外国人に対する政府の観光施策について、07年8月~今年3月まで、法務省や国土交通省など6省を対象に調査した。
 勧告によると、空港での入国審査の待ち時間を最長でも20分にするとの政府目標に対し、羽田、成田、中部、関西の主要4空港の待ち時間は08年平均で30.4分。06年は25.5分、07年が26.8分だった。特に関西では、08年に待ち時間が平均49分に達した月もあった。
 入国審査は、07年11月に指紋や顔写真提供を義務付ける新制度が米国に次いで導入され、審査終了までの待ち時間が大きく増えた。政府は外国人観光客を10年までに1000万人に増やす目標を立てているが、テロや不法入国防止目的の新制度が障害となっている。勧告は、入国審査官の適切な配置や、外国人を担当するブースの増設などの対応が必要とした。
 また、外国人が安心して泊まれる基準を満たしているとして「国際観光ホテル整備法」(1949年制定)の登録を受けたホテルや旅館のうち、07年に外国人が宿泊した1560施設にアンケートした結果、40.1%が外国語によるサービスを行っていないことが判明。22.9%は外国語のサービスを「行っていないし、行う予定もない」と回答した。同法に基づいて登録されると、固定資産税の軽減など税制上の優遇措置を受けられる。
ENDS
////////////////////////////////////////
COMMENT:  First, love those last paragraphs in both the AP and Mainichi articles, about how hotels aren't enforcing international standards they've agreed to.  
Let's do the math:  40% of 1560 member hotels is 624 hotels with no foreign-language service, whatever that means.  Moreover, according to the AP, 41% of those 624 hotels couldn't be bothered to put up even a foreign-language sign (how hard could that be?).  That means 256 hotels are accepting the international registry advertising, along with concomitant breaks on property taxes, but not doing their job.
Weak excuse time:   Some accommodations have claimed they turn away NJ simply because they don't feel they can provide NJ with professional service, as in service commensurate with their own standards (sources here and here).  As if that's the customer's problem?  Oh, but this time there's no excuse for those shy and self-effacing hoteliers.  They're clearly beckoning NJ to come stay through the International Sightseeing Hotel Law.
But the rot runs deep.  As Debito.org reported last year, we've even had a local government tourism board (Fukushima Prefecture) as recently as 2007 (that is, until Debito.org contacted them) advertising hotels that won't even ACCEPT foreigners.  (Yes, the tourism board knew what they were doing:  they even offered the option of refusal to those shy hotels!)  You know something is really screwy when even the government acquiesces in and encourages illegal activity . (You can't turn away guests just because they're foreign, under the Hotel Management Law.)
And that's even before we get to the MOJ's ludicrous and discriminatory fingerprinting system (targeting "terrorists", "criminals", and carriers "infectious diseases", which of course means targeting not only foreign tourists, but also NJ residents).   It has made "Yokoso Japan" visits or returns home worse than cumbersome.  The ministries are tramping on each other's toes.
Do-nothing bureaucratic default mode time:  Honpo Yoshiaki, chief of the Japan Tourism Agency, in an Autumn 2008 interview with the Japan Times and a Q&A with Nagano hotelier Tyler Lynch, diffidently said that those hotels that don't want NJ (and an October 2008 poll indicated 27% of hotels nationwide didn't) will just be "ignored" by the ministry.
Yeah, that'll fix 'em.  No wonder MOIA is miffed.  Sic 'em.  
Arudou Debito in Sapporo
PS:  MJ offers more comments and links below.  He says it best, I'll just copy-paste.