mytest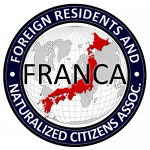 Hi Blog.  I have been avoiding talking about the "puff pieces" about pot smokers in Sumo (I'm sure toking helps with the munchies around chanko-nabe time; we might even get people finding other uses for the hemp-like substance surrounding much of the ceremonial decor), because there was nothing particularly noteworthy or unfair about it.  Three sumo wrestlers who just happened to be Russian got caught inhaling, and they got it in the neck.  Dumb of them to do it.
However, now a Japanese rikishi, Wakakirin, just got caught and expelled.  Funny thing is, he tested positive for the substance (twice) back in August like all the rest.  Why wasn't the bong lowered on him then?  
More importantly, this becomes Debito.orgable because Kyodo just had to run a bit saying that he got his stash from foreigners in Roppongi.  That's right, even when it's a Japanese gone to pot, weasel in some blame for the NJ all over again.  Sheesh.
A couple of articles substantiating this follow, courtesy of JK and The Club.  Arudou Debito in Sapporo
===============================
◆Sumo: JSA fires wrestler arrested for marijuana possession
TOKYO, Feb. 2, 2009 KYODO NEWS
http://home.kyodo.co.jp/modules/fstStory/index.php?storyid=421664
The Japan Sumo Association on Monday fired second-division wrestler Wakakirin, who has been arrested for marijuana possession in the latest drug-use scandal to hit Japan's ancient national sport.
     The JSA executive committee took swift action to impose one of its heaviest punishments on a wrestler three days after police apprehended Wakakirin, 25, whose real name is Shinichi Suzukawa, in Tokyo along with 30-year-old musician Tsutomu Hirano.
     The committee, however, stopped short of expelling Wakakirin. Dismissal is the second heaviest punishment after expulsion.
     Wakakirin is the first Japanese wrestler to be arrested in a marijuana case and the latest grappler to be thrown out of the sumo world after three Russians were dismissed over drug charges during the last six months.
     Top-division Russian grappler Wakanoho was arrested on charges of marijuana possession last August, while compatriots and brothers Roho and Hakurozan both returned positive results for marijuana use in ensuing drug tests conducted by the JSA.
     The series of drug-use scandals came as the sport struggled to restore its reputation, marred also by lingering match-fixing allegations and the fatal hazing last year of a teenage wrestler by his stablemates.
     On Saturday, Wakakirin submitted a written retirement offer to the JSA through his lawyer and stablemaster Oguruma. JSA Chairman Musashigawa left his fate in the hands of the executive committee.
     Wakakirin has admitted to police that he smoked marijuana. He made his sumo debut in 1999 and wrestled in the second-tier juryo division in the last five tournaments after being demoted from the top flight, where he peaked at ninth-ranked maegashira in January 2008.
==Kyodo
===============================
Sumo wrestler says he got marijuana from foreigner in Roppongi
Monday 02nd February, 2009 04:24 AM JST KYODO NEWS/JAPAN TODAY
http://www.japantoday.com/category/crime/view/sumo-wrestler-says-he-got-marijuana-from-foreigner-in-roppongi
YOKOHAMA —
A second-division Japanese sumo wrestler arrested for possessing marijuana has said he obtained the drug from a foreigner in Tokyo's Roppongi district and that he had smoked marijuana regularly, before then retracting that claim, police said Saturday.
Wakakirin, 25, whose real name is Shinichi Suzukawa, earlier told Kanagawa prefectural police that he ''had been smoking for some time'' but later changed his testimony and said, ''I only smoked marijuana twice before my arrest and have not smoked it in the past.''
Wakakirin said the only two times he had smoked were at the office of a compact disc sales shop in Roppongi where he was arrested Friday after the police found 16 grams of marijuana while investigating another drug-related case.
But because the sumo wrestler tested positive twice in three urine tests conducted by the Japan Sumo Association in September, the police said they will continue investigating where he obtained the drug and the number of times he has smoked in the past.
Police sent the wrestler to prosecutors Sunday on suspicion of violating the cannabis control law. Wakakirin was apprehended along with musician Tsutomu Hirano, 30, at the office of a CD shop in the Roppongi district, according to the Kanagawa prefectural police.
Wakakirin told investigators he hollowed out a cigar, blended the contents with marijuana and put the mixture back into the cigar and smoked it, but a senior prefectural police official queried whether it is normal to inhale cigars in the same way as in smoking marijuana.
The police also sent Hirano to prosecutors Sunday.
ENDS