mytest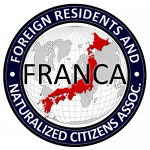 My next "JUST BE CAUSE" Japan Times Column out tomorrow, March 3
Title: "TOADIES, VULTURES, AND ZOMBIE DEBATES"
As the JBC column begins its second year in the Japan Times, I come out swinging, talking about people who recycle long-dead and buried debates (in this case, racial discrimination) for their own personal gain. In response to the recent debates on the subject in the Japan Times.
I feel it's one of my best columns yet. It crystallized a number of ideas I've had floating around in my head into concise mindsets. Especially the concept of the "zombie debate".
It'll be out tomorrow, Tuesday (Wednesday in the provinces). Get a copy! Arudou Debito in Sapporo
UPDATE:  Here's a link to it.
http://search.japantimes.co.jp/cgi-bin/fl20090303ad.html
I'll have it up on Debito.org by noon tomorrow (Weds) for comments and feedback.