mytest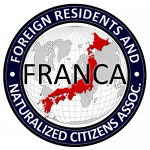 Hi Blog.  Related to yesterday's posting:  While looking up other things for my thesis, I noticed that a significant new change has happened from 2007 with Japanese driver licenses.  They've been getting IC Chips as well.
Here's a screen capture excerpt from the NPA website:
(there's a lot more text below on the site as explanation, see it at http://www.keishicho.metro.tokyo.jp/menkyo/menkyo/ic/ic.htm)
The reasons I find this perturbing (as I mentioned in yesterday's blog entry comments discussing this) are:
1) There is no standardized form of ID that Japanese MUST carry 24/7 or face criminal punishment, unlike the Gaijin Cards discussed yesterday.  The Driver License is the most typical, followed by the Health Insurance Card (which is not even a photo ID), the controversial Juuki-Net card, koseki touhon and juuminhyou (also both not photo IDs) and passport.  Which means this most-used form of ID (many people spend thousands of dollars for drivers' ed classes just to become "Paper Drivers") is now getting Gaijin Cardized.  People are going to be trackable in future the same as the NJ.
2) For "privacy's sake" (gee whiz, suddenly we're concerned?), the honseki family registry domicile is being removed from IC Chipped Driver Licenses.  That was ill-thought-through, because once I get my license renewed, short of carrying my Japanese passport with me 24/7 I will have no other way of demonstrating that I am a Japanese citizen.  After all, I have no Gaijin Card (of course), so if some cop decides to racially profile me on the street, what am I to do but say hey, look, um, I'm a citizen, trust me.  And since criminal law is on the Fuzz's side, I will definitely be put under arrest ('cos no way of my own free will am I going to the local Police Box for "voluntary questioning", thank you very much) as the law demands in these cases.  I see lotsa false positives and harassment in future Gaijin Card Dragnets.
And this after all the pains I took to make sure my Driver License had my honseki on it in the first place eight plus years ago when I naturalized.  See one of my favorite funny stories about that here.  (You just gotta love the vigilance of the cops that day, tracking me down for congratulations and offers of protecting my rights.)
One bit of good news, if you can call it that.  The NPA site shows exactly where the IC Chip is on your license.  Ready your hammers…  Arudou Debito in Sapporo
PS:  I just checked my Driver License.  As it says above, this IC program was inaugurated from January 2007, but I renewed my license back in January 2008.  Wonder why I didn't get chipped.  The IC Chip machines hadn't made it up this far north yet?
ENDS