mytest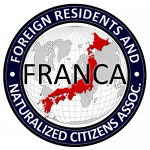 UPDATES ON TWITTER: arudoudebito
DEBITO.ORG PODCASTS on iTunes, subscribe free
Hi Blog.  Examiner.com's Justin Tedaldi, also of JET organization JETAA-NY, has just put up an interview of me and a kind review of novel IN APPROPRIATE.  Please go to Examiner.com to read the whole thing.  Excerpt below.  Thanks very much, Justin.  Arudou Debito
///////////////////////////////////////////////
Divorce is tough, but divorce in Japan—especially if you're a foreigner with kids—is a nightmare, explains Sapporo-based author Arudou Debito in his new book, In Appropriate: A Novel of Culture, Kidnapping, and Revenge in Modern Japan.
Originally raised in rural upstate New York as David Aldwinckle, Debito is a 23-year resident of Japan who obtained Japanese citizenship (and a name change) in 2000. As the Just Be Cause columnist at The Japan Times newspaper, his nonfiction books include Handbook for Newcomers, Migrants, and Immigrants, and Japanese Only: The Otaru Hot Springs Case and Racial Discrimination in Japan.
A longtime watchdog for foreigners' rights in Japan, Debito's first English-language novel takes a scalpel to the polite, friendly façade that tourists typically experience. In Appropriate examines the downright ugly aspects of Japanese life when a father is cut from all ties with his children post-divorce, which is not only common in Japan, but upheld by 19th century law. In this exclusive interview, Debito discusses his personal experiences that inspired the book, his history as an activist, and his thoughts on the future of Japan.
Q:  You've been known as an activist for over a decade and have published non-fiction works on the subject. What inspired you to write about child abduction in Japan, and what were your goals?
DEBITO:  My goal with In Appropriate was to expose a dire social problem, as usual. But this time I thought fiction would be the better medium. Doing what I do, I hear a lot of stories about broken marriages in Japan, and having gone through a nasty divorce myself (seeing my children only about six times since 2003), I know a little bit about child abduction. What goes on in Japan beggars belief, but it's hard to zero in on one non-fiction case and expect it to cover the scope of the problem.
Although international child abductions in other countries have gotten some press, the situation in Japan is much, much worse. Child abductions and parental alienation in Japan are, in a word, systematic—meaning they are hardly uncommon between Japanese, too (former prime minister Junichiro Koizumi is a famous example; he never saw one of his sons for nearly two decades). One parent after a divorce is generally expected to disappear, and have little to no contact with the children anymore. In Appropriate was meant as a primer to the issue.
Japan has no system of joint custody or guaranteed visitation rights, and under this system I cannot recommend anyone, Japanese or non-Japanese (NJ), get married under it and consider having children. The risk is too great. We need fundamental reform of the Family Registry System and the laws governing divorce and child custody first.
Give us a basic overview on the phenomenon of kidnapping and left-behind parents in Japan.
It works like this: Japan's divorce laws have been fundamentally unaltered since 1898(!), meaning modern-day common-sense divorces based upon "we just don't like each other any more," aka "irreconcilable differences," don't fly in Japan's Family Courts. Fact is, if both sides don't agree to a divorce, one side will have to portray the marriage as a living hell (even when it wasn't) in public just to satisfy the requirements, inspiring vindictiveness in the other side. (Read more at www.debito.org/thedivorce.html.)
So after a successful split, one parent (usually the mother) gets the kids, and they are put on her Family Registry (koseki). Hers only, as Japan's laws do not permit registry of people on two koseki. This means the other parent (usually the father) has no title or custody to the children (for example, I couldn't even get an audience with my daughters' junior high school teachers to see their grades). Access is granted only at the whim of the mother; I haven't so much as seen a new photograph of my kids for about five years now. Even if the father goes to court to get a ruling guaranteeing visitation or access, if the mother again decides to make excuses for denial of visitation (or worse yet, levies a claim of "domestic violence"), the father will have to go to court again to get his rights enforced. Given that Japanese courts take months or years to hand down decisions, his kids will in the interim grow up alienated and never hearing his side.
This is what happens on a domestic level between Japanese. Now add the dimension of international marriage, where the NJ parent may have visa issues, face a language/culture barrier, or be communicating from overseas, and you have a more complex case. (More information via the Children's Rights Network at www.crnjapan.net.)
Do you think Japan has any legal grounds on an international level to justify its actions?
Japan is not a signatory to many international agreements protecting the rights of children, including the Hague Convention on Child Abductions. Its courts have also not honored overseas court decisions regarding child custody awarded to the NJ parent. According to the U.S. State Department, Japan has not returned a single child abducted to Japan after an international divorce. No doubt Japan's judiciary would find the Elian Gonzalez Case of 2000 puzzling indeed. Japan as a country refuses to abide by international norms regarding families post-divorce. More in an upcoming documentary called From the Shadows (www.fromtheshadowsmovie.com).
Why did you choose the fiction novel format?
Because no single non-fiction case would capture the complicated dynamics of this issue properly. Besides, In Appropriate is about more than just divorce: I wanted to describe how a person would find a fascination in Japan and Japanese people, come over during Japan's Bubble Era to see Japan ripe with opportunity, and find how Japan went sour as an economy over the past two decades. It was wonderful for me to recount this as a Bubble Era veteran—when in the late 1980s Japan looked poised to take over the world, was even challenging notions of how capitalism worked. Then see how, step-by-step, Japanese society would be squeezed and squeezed, convinced that recovery was right around the corner, just like Godot.
How a person could become an immigrant to Japan—assimilating himself to the point of founding his own company, becoming bilingual in Japanese, even taking Japanese citizenship, yet be blindsided by events that were nearly always beyond his control. In Appropriate is much more than just a story of divorce—it's a time capsule charting Japan's descent into mediocrity and comparative international irrelevance. That's best portrayed in a novel format…