mytest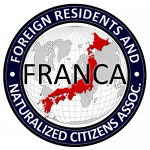 Hi Blog. Here's something I find alarming. Not satisfied to plop spy cameras in places festered with foreigners, as Ishihara would put it, the NPA is now planning to plop even more in cities nationwide, and turn the keys over to unprofessionals who are not officially entrusted with police powers: neighborhood associations.
The very reason we have chounaikai was to help the kenpeitai and other devices of the wartime Japanese police state keep watch on their neighbors. That the chounaikai still exists essentially as organizations to keep a semblance of volunteerism alive in principalities, I object to the revival of them as a policing agency. The NPA already spends enough of our taxes putting up posters exhorting people to "watch your neighbors — they might be political extremists!" Now they're getting cameras, with peeping and recording eyes? Yeah, I can imagine what sort of people those beady eyes will be gravitating towards. Anyone who looks "funny", or "suspicious". Guess who I mean.
The article, excerpted below. Arudou Debito in Sapporo
/////////////////////////////////
The Japan Times, Friday, June 26, 2009
Residential streets to get cop cameras
Neighborhood groups to be in charge: NPA
Kyodo News
The National Police Agency said Thursday that security camera networks will be installed in 15 residential areas in 14 prefectures as part of efforts to prevent crime and better protect children.
Full article at http://search.japantimes.co.jp/cgi-bin/nn20090626a1.html
Coming to a street near you: A surveillance camera hangs over a street in the Roppongi district in Tokyo. The National Police Agency said Thursday police will set up security cameras in 15 residential areas in 14 prefectures. KYODO PHOTO
The announcement, however, prompted some citizen groups to complain that the move is an attempt by the police to boost surveillance of the public.
The police plan to launch the first such domestic residential network around next January, according to NPA officials.
They will entrust volunteer groups of residents to operate and manage the equipment and image data, they said.
The nation's police forces "will help residents to secure safety by themselves," an official at the agency said.
It will be the first time for the police to entrust such monitoring duties to residents groups…
The 15 locations include the prefectural capitals of Otsu, Okayama, Hiroshima, Tokushima and Fukuoka.
The 10 other areas are in Higashimatsushima, Miyagi Prefecture; Oyama, Tochigi Prefecture; Toda, Saitama Prefecture; Higashiyamato and Musashimurayama, both suburban Tokyo; Fujieda, Shizuoka Prefecture; Neyagawa, Osaka Prefecture; Himeji, Hyogo Prefecture; Iwade, Wakayama Prefecture; and Amami, Kagoshima Prefecture.
[NB: Why these places, I wonder? Wonder under what criteria they were chosen?]
ENDS