mytest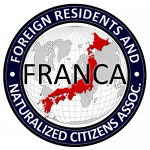 UPDATES ON TWITTER: arudoudebito
DEBITO.ORG PODCASTS on iTunes, subscribe free
Hi Blog.  Faculty members at the University of Sheffield, a venerable British institution for Japanese studies, have released their third edition of an academic book on Japan's International Relations with a rather sensationalistic cover.  I forward the letter of complaint from friend Amanda Harlow (used with permission):
/////////////////////////////////////////////////////
From: Amanda Harlow
Subject: Japan's International Relation book cover
Date: May 13, 2011
To: h.dobson@shef.ac.uk
Dear Professor Dobson,
I am writing to you to complain about the choice of cover design for the third edition of "Japan's International Relations".

http://www.amazon.co.jp/Japans-International-Relations-Economics-Sheffield/dp/0415587433
[This and past editions still available on Amazon.com and Amazon.co.uk]
This cartoon panders to the worst stereotyping of Japanese people and I feel this is a surprising choice for a respected British institution such as the University of Sheffield. If this was a mob of Japan-bashers on the streets of China, or a crazy nationalistic website I would not be surprised. But the School of East Asian Studies? Really?
Is it meant to be ironic? If so, I think this illustration would be better as an inside picture and not used on the cover of a book that is supposedly about international relations.
Here in Japan (I live in Sapporo with my Japanese husband and family) there are endless gaijin-bashing images and Debito Arudou, a friend of mine, is a well known activator on discrimination issues – if he found this image of a non-Japanese on a Japanese book cover we would all shake our heads and groan.
Can you possibly think again before publication?
Yours sincerely,
Amanda Harlow
Sapporo, Japan
ENDS
/////////////////////////////////////////////////////
PREVIOUS EDITION COVERS:
http://www.amazon.co.jp/Japans-International-Relations-Economics-Sheffield/dp/0415336384/ref=pd_sim_sbs_fb_1
http://www.amazon.co.jp/Japans-International-Relations-Economics-Sheffield/dp/0415240980/ref=pd_sim_sbs_fb_2
From Amazon:  Product Description
http://www.amazon.co.jp/Japans-International-Relations-Economics-Sheffield/dp/0415587433

内容説明
The latest edition of this comprehensive and user-friendly textbook provides a single volume resource for all those studying Japan's international relations. It offers a clear and concise introduction to the most important aspects of Japan's role in the globalized economy of the twenty-first century. The book has been fully updated and revised to include comprehensive discussions of contemporary key issues for Japan's IR, including:
the rise of China
reaction to the global economic and financial crisis since 2008
Japan's proactive role after 9/11 and the war on terror
responses to events on the Korean Peninsula
relations with the USA and the Obama administration
relations with Russia, Central Asia and the Middle East
changing responses to an expanding and deepening European Union
Extensively illustrated, the text includes statistics, maps, photographs, summaries and suggestions for further reading, making it essential reading for those studying Japanese politics, and the international relations of the Asia Pacific.
著者について
Glenn D. Hook is Professor of Japanese Studies in the School of East Asian Studies, University of Sheffield.
Julie Gilson is Senior Lecturer in the Department of Politics and International Studies, University of Birmingham.
Christopher W. Hughes is Professor of International Politics and Japanese Studies, University of Warwick.
Hugo Dobson is Professor in the International Relations of Japan, University of Sheffield.
---
Product Details
ペーパーバック: 560 pages
Publisher: Routledge; 3 edition (2011/8/31)
Language: 英語, 英語, 英語
ISBN-10: 0415587433
ISBN-13: 978-0415587433
Release Date: 2011/8/31
COMMENT:  Okay, I shake my head and groan.  Arudou Debito