mytest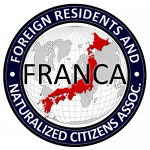 UPDATES ON TWITTER: arudoudebito
DEBITO.ORG PODCASTS on iTunes, subscribe free
Hi Blog.  Out tomorrow will be my latest JUST BE CAUSE column in the Japan Times.  I actually wrote a piece in defense of the so-called "Fly-jin", the NJ who are being treated like deserters for protecting their own, deciding to put some distance between themselves and situations they consider dangerous post-Fukushima.
I ask the question:  "So what if many NJ did leave Japan?  Do you think Japan thus far has been all that encouraging of them to stay?"
I think some people might find this view refreshing and cathartic, given the increasing sociopathy I'm feeling within the already-disenfranchised NJ as they bully their own.
1400 words, have a look tomorrow.  Arudou Debito
UPDATE:  Here it is: http://search.japantimes.co.jp/cgi-bin/fl20110503ad.html