mytest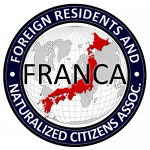 UPDATES ON TWITTER: arudoudebito
DEBITO.ORG PODCASTS on iTunes, subscribe free
Hi Blog. Got this recently from submitter SL who wrote:
//////////////////////////////////////////////
hello debito. we have never met but i wanted to make you aware of a friend of mine who has been imprisoned in japan for the last 5 months without being charged. it's a bit of a long story, but i met nathan about 4 years ago when he first came to japan from the states to pursue his photography. to make a long story short, he met a japanese woman, got her pregnant, they got married then all hell broke loose. he has been in prison for apparently trying to abduct his child and take her back to the states. until recently i had had no contact with him except a letter in which he asked me to donate money to japan's relief effort, then i saw this video…
http://www.youtube.com/watch?v=_rWJgfnoOdo&feature=related
i am leaving japan at the end of may, so until then i will try to get his case some more attention. i hope that this message does not fall on deaf ears nor blind eyes. any suggestions are welcome, but this is more to make you aware of his situation.
all i ask is that you watch the video and perhaps forward it to anyone you think might be able to help him. thanks! sl
//////////////////////////////////////////////
Also, according to a Facebook site devoted to his case:
http://www.facebook.com/profile.php?id=100002323963541
//////////////////////////////////////////////
"Nathan was arrested in Nov,2010 and is being held in a prison in Niigata charged with kidnapping his daughter Yukari. We are a group of his friends in Niigata who are trying to get the word about the injustice Nathan is suffering everyday as he awaits his fate in Niigata Prison. Please look at the Youtube video titled Free Nathan. Also as Nathan has no internet or telephone access if anyone would like to send Nathan any words of encouragement a letters can be sent c/o
Nathanael Teutle Retamoza
Niigata Prison 381-4-A Yamafutatsu,
Konanku,Niigata City
Niigata, Japan
950-8721
Nathan's next hearing is May 31st ,2011, 09:30-12:00 at the Niigata District Court . In this hearing the closing arguements from both sides will be heard.
Hearings are open to the public and if anyone is interested in attending there will be transportation provided from Niigata Station to the court house. Let's show Nathan our support!!
The courthouse address is
Niigata District Court Gakko-cho dori 1-1 Chuo-ku, Niigata City
phone number 025-222-4175
This is the website for the court house with the address in Japanese and a very limited web site in English.
http://www.courts.go.jp/niigata/
For the people who have promised to come to Nathan's hearing on May 31st Nathan will be so grateful and overwelmed by your kindness. Thank-you in advance.
It is extremely important to remember that if someone decides to attend Nathan's hearing on May31st, it goes without saying that you must respect the courtroom and the process because if not the judges have the right to clear the courtroom. We definitely don't want that. So let's support Nathan respectfully and quietly. If you have never attended a Japanese hearing or have any questions what so ever I will answer and/or try to find the answer asap. Attending the hearing is an anonymous in that your name is not registered anywhere and no one will ask why you are there. There are many random people in the courtroom; law students, professors, retired individuals who are interested in the law etc. Obviously if you are not Japanese you will stand out but because there is no conversation among the spectators what so ever, there is no worry that you will be singled and questioned. I have been asked about this many times so I hope that it will put some people at ease."
//////////////////////////////////////////////
COMMENT: I know no more about this case than what is on YouTube and Facebook. Those who wish to make enquiries can do so there or at freenathan@ymail.com. FYI. Arudou Debito