mytest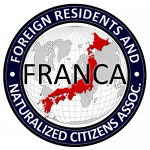 UPDATES ON TWITTER: arudoudebito
DEBITO.ORG PODCASTS on iTunes, subscribe free
Hi Blog.  Related to the debunkable claims of "Fly-jin" NJ deserting Japan in its time of need, here is an article in the media with a survey of how NJ are actually by-and-large NOT wanting to be "Fly-jin".  Good.
The problem is, it seems (after a short search) that this article has come out in English only — there is no link to the "original Japanese story" like many Mainichi articles have.  So this may sadly may not be for domestic consumption.  Or it may be available on Kyodo wire services (but again, not in Japanese for Mainichi readers).  Sigh.  Arudou Debito
//////////////////////////////////////////////////////
Many foreign residents wish to stay in Japan despite disaster: survey
Greg Lekich, far left, and other volunteers are pictured in Tagajo, Miyagi Prefecture, on April 20. (Photo courtesy of Greg Lekich)
(Mainichi Japan) May 7, 2011, Courtesy of JK
TOKYO (Kyodo) — More than 90 percent of foreigners studying or working in Japan expressed willingness to continue staying in the country despite the March 11 disaster, according to a recent online survey by a supporting group for them.
The International Foreign Students Association conducted the survey between March 22 and 26, to which 392 people responded. Of the respondents, 60 percent were students and the remaining 40 percent were graduates, while more than 90 percent of them were from China, Taiwan and South Korea.
Those who are willing to stay in Japan said, "Because I like Japan," or "At a time like this, I think I want to work together (with Japanese) to help the recovery," according to the Tokyo-based nonprofit organization.
The survey also showed that 73 percent of the respondents saw information gaps between Japan and their home countries on the earthquake, tsunami and the subsequent nuclear emergency, with some saying overseas news on the nuclear crisis was "excessive."
Some respondents also pointed out that the Japanese government does not fully disclose information on the nuclear disaster.
Foreign volunteers help clear mud from a shopping street in Ishinomaki, Miyagi Prefecture, on April 14. (Mainichi)
Around 60 percent said they have not been preparing for disasters, while some voiced the need for multilingual information on disasters.