mytest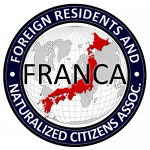 UPDATES ON TWITTER: arudoudebito
DEBITO.ORG PODCASTS on iTunes, subscribe free
Hi Blog.  Get a load of this:
///////////////////////////////////////////////////
The Japan Times Saturday, May 14, 2011
Foreigners key to recovery: Iokibe
http://search.japantimes.co.jp/cgi-bin/nn20110514a8.html
Kyodo — Large numbers of foreigners will be needed to help revive the farming and fishery industries in areas damaged by the March 11 mega-quake and tsunami, the head of a reconstruction panel said Friday.
"It is important to draw human resources, including permanent foreign residents" to the hard-hit Tohoku region, Makoto Iokibe, chair of the Reconstruction Design Council, said at the Japan National Press Club.
Iokibe said many cities and towns in the region, known for its strong farming and fishery industries, were suffering from depopulation evern before the calamities, so population growth will be vital to rebuilding the area.
Iokibe, who is also president of the National Defense Academy of Japan, said the country cannot avoid a debate on raising taxes to fund reconstruction, given its heavy debt load and fiscal constraints.
The advisory panel to Prime Minister Naoto Kan, which Iokibe took charge of in early April, has been asked to develop the first set of reconstruction proposals by the end of June.
ENDS
///////////////////////////////////////////////////
COMMENT:  As submitter CJ commented:  "What foreigner WOULDN'T leap at the opportunity to perform manual labor all day bathed in background radiation while being treated like a potential criminal and expected to leave when no longer needed, sacrificing pension contributions in the course of doing so?"
Touche.  Especially since day laborers are now a hot commodity for hot radioactive reactor cleanups, see below.  Get freshly-imported foreign workers doing this instead and you'll have no family in Japan complaining.  Arudou Debito
///////////////////////////////////////////////////
Osaka day laborer duped into reactor cleanup
Tuesday, May 10, 2011
OSAKA — An Osaka day laborer who responded to an ad for a truck driver in Miyagi Prefecture found himself working beside the Fukushima No. 1 nuclear power station, it was learned Monday.
The man, whose name has not been released, has filed a complaint with a job placement center in Osaka's Airin day labor district. The Osaka district labor bureau is also investigating the case.
According to the Airin center, a job notice came around March 17 from a Gifu-based firm, Hokuriku Koki, which was seeking a truck driver in Onagawa, Miyagi Prefecture. Onagawa is also home to a nuclear power station, but Yoji Takeshita, an Airin job center official, said the ad did not specify where the driver was supposed to take the truck.
The job promised ¥12,000 a day and the contract was for one month.
But about a week later, the man called the Airin center saying he was actually in Fukushima, not Miyagi Prefecture, and that he was wearing protective clothing and cleaning up debris around the Fukushima No. 1 power plant.
On Monday, after the center spoke to the man and Hokuriku Koki, it was further learned he had spent about two weeks near reactors No. 5 and No. 6, working with water tankers to supply the pumps that were being used to keep them cool…
The man completed his work and returned to Osaka in late April. But he filed a complaint with the Airin center, saying that while he was paid ¥24,000 a day — twice what he'd been promised — he didn't receive a radiation badge until the fourth day on the job and that the work was different from what he had been promised…
Full article at
http://search.japantimes.co.jp/cgi-bin/nn20110510a3.html
ENDS