mytest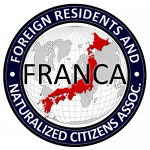 UPDATES ON TWITTER: arudoudebito
DEBITO.ORG PODCASTS on iTunes, subscribe free
Hi Blog. Here is another report of shabby treatment of NJ as customers, this time in Osaka. The writer, an exchange student in Kyoto, told me of her experience at an Osaka pottery store during my last speech, and I asked her to write it up. She did. Read on. Anonymized. Anyone nearby want to check this place out and see what's bugging them? Arudou Debito
/////////////////////////////////////////////////////////
June 7, 2011
Hello, this is [Jessica] from the lecture to Michigan State University students at Doshisha this morning. I wrote up my experience at the pottery shop in case you wanted to check it out. Please feel free to ask me any questions you may have.
In early June of 2011, I went to a pottery shop on Doguyasuji in Osaka. This particular shop only sells pottery and is in fact overflowing with pottery. They have too much to fit on the shelves so all the floor aisles have a row of pottery on each side, so that you have to walk very carefully so as not to kick any plates. I went into this shop twice and did not have any interaction with the salespeople the first time; the second time no salesperson approached me or seemed to take notice of me. The second time I picked out a bowl that was stacked on top of 2 others exactly like it and brought it up to the sales counter to purchase it. There were a couple salepeople there but none of them were looking at me, so I said "excuse me" in Japanese and held out the bowl to them, indicating I wanted to buy it. A saleswoman who appeared to be in her 30s looked at me, shook her head, pointed to a sign on the wall behind her (at the back of the store), turned away from me, and completely ignored me for the rest of my time in the store. Unfortunately I did not write down or take a picture of the sign, but it said in English something like, "It is not possible for us to sell any pottery because we do not have any in stock." There was no explanation or even mention of ordering items for future pick-up either on the sign or by the salespeople. Again, this store was completely filled with pottery, and most pieces, including the bowl I wanted to buy, had identical ones on the shelves. This was definitely not a small artisan shop run by the potter, which might justify a desire to keep their personal pottery in the country; this was just a typical store that had pottery as its product. I watched for a little while and saw several Japanese people come into the store, browse a bit, pick something up off the shelf, and purchase it immediately. Nobody else had any extended discussion with a salesperson or filled out a form, and nobody appeared to come in and pick up pre-ordered pottery or get a large quantity of pottery off a shelf, as one would expect if this store was only selling to restaurant owners or only accepting pre-orders.
This is the street. http://www.osaka-info.jp/en/search/detail/shopping_5198.html It is geared towards restaurant owners, but the shops generally sell to anyone. I'll look through my pictures and if I took one of this pottery shop I'll send it to you, but it does stand out somewhat as the only one that is very small and overflowing with just pottery. I'm pretty sure it was the "scary shop" in this blog post. http://www.chekyang.com/musings/2010/12/30/day-9-osaka-douguyasuji/ Note that they did just buy things right off the shelves. According to their blog they were tourists, they're from and currently live in Singapore, and they don't speak Japanese and spoke English on that trip; the only difference between them and me is they look Asian.
I really think that the sign was just a ridiculous fabricated justification in order to refuse to sell to non-Asian foreigners. There was nothing that denied me entrance to the shop, I just couldn't purchase anything once in there. A professor in my study abroad program (a black woman) had a similar experience in Kyoto, where she was allowed into a used kimono store and allowed to browse, but the shopkeeper simply refused to sell her anything. We were already in the stores, so it's not as if the presence of foreigners could hurt their business, and none of the other customers appeared to have a problem with us. I don't speak Japanese so it was fairly obvious that I'm a true foreigner, but I was in no way disrespectful or a less than well-behaved customer, I was not provocatively dressed nor did I look like I would be unable to pay, and I was not trying to bargain or do anything other than just pay for the bowl. I have been in Japan a couple weeks and have traveled to 23 other countries before now, so I do have an idea how to behave acceptably, and while I may have accidentally breached some small bit of etiquette I am certain that I was not rude. It is as if the shopkeepers don't want to acknowledge our existence even enough to bar us, or are avoiding alienating other customers as Professor [X., who also attended our lecture] suggested, but if we force them into an encounter by wanting to buy something then they respond with active discrimination. I would be interested to know their reasoning, if someone who speaks Japanese goes to the shop and can communicate with them.
Thanks again for the talk today, it was very interesting and informative. Jessica
ENDS
UPDATE:  Debito.org Reader Level3 investigates the store in question, discovers this is all apparently a misunderstanding, as he is able to make to purchase there.  Read his full report here.