Posted by Dr. ARUDOU, Debito on April 25th, 2012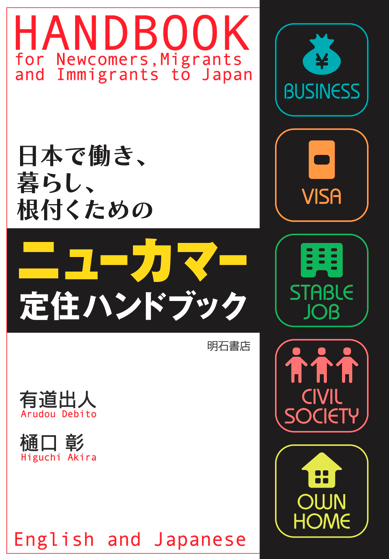 UPDATES ON TWITTER: arudoudebito
DEBITO.ORG PODCASTS on iTunes, subscribe free
Hi Blog. As I wrote last week, next week heralds a celebration of the Tenth Anniversary of the Japan Times' Tuesday Community Page. As I've written about 100 articles and JBC columns for it so far, I'll be doing double duty next week with two articles, one in commemoration, and one a regular JBC column (more on the topic shortly before publication).
This week, however, in anticipation, the JT announced that it would be offering FIVE free copies of Akira Higuchi and Arudou Debito's bilingual HANDBOOK FOR NEWCOMERS, MIGRANTS, AND IMMIGRANTS (more on it here), which has been a solid and steady seller, what with all the information about getting the right visa, getting a steady job, getting settled for a permanent life in Japan, and dealing with problems and issues that may come up. Table of Contents and reviews here.
That's right, five free copies of HANDBOOK, and all you have to do is write a Haiku in English about Japan — "the good, the bad and the ugly". Some examples (there are many more at the link) by Zeit Gist contributor Colin Jones this week include:
http://www.japantimes.co.jp/text/fl20120424lg.html
Random card checking
Fingerprints at the airport
Yokoso Japan!
Non-Japanese folk
Have constitutional rights
Except when they don't
Barred from the hot springs
for invisible tattoo
It says "foreigner"
Now, those are my kinda Haiku. And no doubt we'll have some anti-Debito ones too (taste the irony of being rewarded by the very person you're dissing!). Go for it!  Submit via:
http://www.japantimes.co.jp/life/community-anniversary.html
Happy Anniversary, Community Page!  Arudou Debito