mytest
Books, eBooks, and more from Debito Arudou, Ph.D. (click on icon):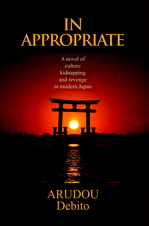 UPDATES ON TWITTER: arudoudebito
DEBITO.ORG PODCASTS on iTunes, subscribe free
"LIKE" US on Facebook at http://www.facebook.com/debitoorg
https://www.facebook.com/embeddedrcsmJapan
http://www.facebook.com/handbookimmigrants
https://www.facebook.com/JapaneseOnlyTheBook
https://www.facebook.com/BookInAppropriate
If you like what you read and discuss on Debito.org, please consider helping us stop hackers and defray maintenance costs with a little donation via my webhoster:


All donations go towards website costs only. Thanks for your support!
Visible Minorities: Local Governments Classifying Japanese Citizens as Foreigners
Shingetsu News Agency, Dec 16, 2019. By Debito Arudou 
http://shingetsunewsagency.com/2019/12/16/visible-minorities-local-governments-classifying-japanese-citizens-as-foreigners/
SNA (Tokyo) — According to the Japanese government, our resident Non-Japanese (NJ) population reached yet another new record, at 2.8 million last June. Last April, Japan started offering new visa regimes to greatly expand the NJ labor force, in response to Japan's aging society and shrinking population. This, plus steady numbers of permanent residents, international marriages, and naturalizing citizens, are expanding our multicultural and multiethnic communities.
In response, local governments have been trying to accommodate the diversity through new concepts and policies. It started in earnest as far back as 2001 with the Hamamatsu Declaration, where multiple cities and towns near Shizuoka Prefecture called upon the national government to assist them in providing their NJ residents with education, welfare benefits, and streamlined administration. Since then, local governments have generally made positive proposals in good faith.
But sometimes they get it wrong. Last month, Debito.org reported how the city of Nagoya uses a very problematic term in their documents: Gaikokujin Shimin.
The closest translation would be a "foreigner city resident/citizen" (as opposed to, er, a gaikokujin kokumin, the contradictory "foreigner Japanese citizen"?). But the point is that people covered by this term officially belong in the city as dwellers and participants.
The concept sounds inclusive until you see how it's officially being defined. According to one of Nagoya city's "General Plans," dated August 2018, a Gaikokujin Shimin is, as I translate it from the text:
"In addition to people with foreign nationalities with an address within Nagoya city, people like those who obtained Japanese citizenship, children born from international marriages, people with foreign cultures in their backgrounds, and people who have foreign roots."
(Original Japanese: 名古屋市内に住所を有する外国籍の人のほか、日本国籍を取得した人や国際結婚によって生まれた子どもなど外国の文化を背景に持つ人など、外国にルーツを持つ人。)
Let's mull that over:
Rest at http://shingetsunewsagency.com/2019/12/16/visible-minorities-local-governments-classifying-japanese-citizens-as-foreigners/
======================
Do you like what you read on Debito.org?  Want to help keep the archive active and support Debito.org's activities?  Please consider donating a little something.  More details here. Or if you prefer something less complicated, just click on an advertisement below.