mytest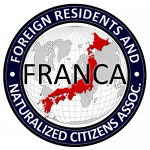 UPDATES ON TWITTER: arudoudebito
Hi Blog. Turning the keyboard to Freeman in Japan, who offers advice on what to do if the cops decide to do a Gaijin Card Checkpoint for being visible while foreign.  Arudou Debito in Sapporo
==================================
Dear Debito,
I have read all of your great advice, thank you for kindly sharing.
Please share this easy-to-remember summary with your readers.
Are you a human being here in Japan who appears to be Non-Japanese?
Do you want to avoid being coerced into interrogations by police officers?
Then here is how to respond when a police officer asks to speak with you:
#1  Silently show your Alien Registration Card.* **
#2  Say, "Ittemo ii desu ka?"
Repeat this exact sentence,
without adding any other words,
until the police officer admits, "Hai."
#3  After hearing "Hai." you are free to leave.
The police officer might try to fool you into speaking further.
They might give a variety of clever, rehearsed, responses.
For example, "Where are you in such a hurry to go?"
"Where did you learn such good Japanese?"
"We just need to ask a few questions, OK?"
"How did you learn about Japan's laws?"
"You may go after we visit the Kouban."
"How long have you been in Japan?"
"We just need to visit the Kouban."
"Why don't you want to answer?"
"What do you think of Japan?"
"Do you like Japanese food?"
"Are you guilty of something?"
"What country are you from?"
"Your country is so beautiful."
"You'll be on your way soon."
"Just a few more questions."
"Can I check your pockets?"
"You can go in a little while."
"Can I just check your bag?"
"Will you just chat with me?"
"Can you just pee in here?"
"Sure is nice weather, eh?"
Don't let the police officer fool you.
Simply calmly repeat your mantra.
"Ittemo ii desu ka?"
(Am I free to go?)
"Ittemo ii desu ka?"
(Am I free to go?)
"Ittemo ii desu ka?"
(Am I free to go?)
* If you are a Japanese National who just appears to be Non-Japanese
just replace #1 with the sentence "Nihon Kokuseki Shutokusha Desu."
** If you have the time, energy, and will, to lengthen the detainment process,
feel free to attempt to educate the police officers about your various rights.
Risk: the police officer might decide to find (or invent) a reason to arrest you.
Reward: your Rosa Parks speech might help make Japan better in the future.
For example, before moving to #2, feel free to try saying the following sentences:
Keisatsukan mo,
mibun o shimesu shouhyou o
keiji shinakereba narimasen.
(Police officers also have to show their I.D.)

Kousoku sare mata wa,
Renkou sare moshiku wa,
Kyouyou sareru koto wa nai.
(You can't force me to stay here,
you can't force me to go with you,
and you can't force me to answer.)

Keisatsukan shokumu shikko hou,
dai ni jou, dai ni kou to dai san kou.
(Police Execution of Duties Law
Article 2, Clause 2 and Clause 3.)

Kyodou fushinsha DAKE ni,
shokumu shitsumon suru koto
dekimasu, guttaiteki ni donna
fushin na koui o shimashitaka?
(You can only question suspicious people,
exactly what suspicious action did I do?)
Reijou ga arimasuka?
(Do you have a warrant?)
Jinken no ihan desu node kouben shimasu.
(This is a violation of human rights so I protest.)
At this point one can calmly sit down as a protest.
Watashi wa taiho sarete imasu ka?
(Am I under arrest?)
Donna yougi de taiho sarete imasu ka?
(Under what charge am I under arrest?)
(All inspired by Debito's great summary.)
https://www.debito.org/GcardLAWS2.pdf
Thank you again Debito, for your important human rights work.
The bottom line is, all conversations are completely voluntary!
If you want to remain free, simply repeat, "Ittemo ii desu ka?"
Sincerely,
Freeman in Japan
PS – If anyone has a more effective sentence, please share.
Also, if anyone has a success story using this, please share.
ENDS