mytest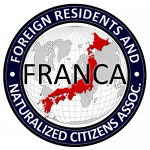 UPDATES ON TWITTER: arudoudebito
Hi Blog.  Here's a campaign by one of the world's largest multinational corporations, McDonald's, promoting stereotypes in a way quite untoward in this day and age (and no doubt would raise hackles with anti-defamation leagues if McD's tried it in, say, its country of origin).
The new NIPPON ALL STARS campaign (which seems to have kicked off a few days ago, on August 10, with its Tamago Double Mac), features a bespectacled, somewhat nerdy, gaijin speaking in broken katakana (i.e. accented) Japanese.  "Mr James" is his name (following the convention of forcing all Western foreigners to be called by their first names, as opposed to last name plus -san, proper etiquette).  And boy is he happy with Japan, with life, with the taste of Japanese-variety burgers at McDonalds.  Hell, they're so good that even this nerdy-looking gaijin (full-body cardboard cutouts available at every McD's) approves of them through his poor accented broken Japanese.
You even get a "James Tamaran Desu ("it's so good I can't stand it!") Card" and a chance to win from a million dollar pool if you succumb to his sales pitch.  It's more than a little creepy.
Here are some scans, taken of materials photographed and collected at McDonald's Yodobashi Camera Sapporo August 13, 2009 (click on image to expand in browser):
From the food tray inserts:
From stickers on every table:
At every restaurant, a full-size cutout of "Mr James":
Close up of the cutout:
Outdoors in Sapporo, so you don't even have to go into the restaurant itself to see the image perpetuated (photo taken August 15, 2009)
As Submitter AP put it:
================================
Subject: mcdonalds ads feature gaijin "MR. JAMES"
Hey, Debito, I often read your blog and bought your handguide as well. I really think living in Japan can be trying as a foreigner, and your efforts toward bringing overlooked issues to light and making things easier for all of us don't go unnoticed!
I wanted to send you a picture I took…
I got hungry while wandering in BicCamera's Osaka store, fell victim to a craving, and ended up eating at the McDonald's there. On my tray I found this gem:
http://www.facebook.com/l/;www.flickr.com/photos/forkies/3813267914/
They were able to find some sucker to gaijin himself up (who ends up to, of course, be American), and the captions show so well how Japanese people often see foreigners.
First, his Japanese is all katakana, as if he's not speaking properly. His sentences are all short and simply-constructed. and last, he is practically in love with Japan. Convenient they found such a fellow!
Not sure if you've seen this anywhere, as I first noticed it yesterday because I've been abroad on holiday until last Friday. On the subway ride home, I saw another small window sticker with the same MR. JAMES caricature. I'm just shocked how the ad group at a giant corporation such as McDonald's thinks this is okay! What do you make this campaign?
Thanks for your time, and thanks again for the time you put into these kinds of issues, AP
=============================
I think a strongly-worded letter from registered NPO FRANCA to McDonald's USA HQ regarding the issues of stereotyping here would be warranted.  Hell, you think McD USA would start putting up a full-body "ching-chong-chinaman" with funny glasses and protruding teeth, saying "Me likee McFlied Lice".  You think that would fly over there?  If not, it shouldn't be allowed over here.  And I think you should make your displeasure known if you are so inclined at every McDonald's you patronize (or not).
Arudou Debito in Sapporo, wishing this was happening in September so he could enjoy the summer.