mytest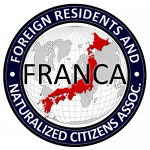 UPDATES ON TWITTER: arudoudebito
Hi Blog.  For a Sunday Tangent, I introduce the book below by Greg Goodmacher.  I have no financial stake, don't worry.  Just wanted to point out that there is a book out there in the education sector which has information on NJ issues.
I think there should be more like these.  After all, if MOE isn't going to help with assimilation by approving books that toe the monocultural "Japan is unique" line (not to mention deny ethnic schools official approval as education entities, so their NJ students can't get subsidies and student discounts), then we international residents who write and sell books should inject multiculturalism into the private sector textbook market.  Hey, what's being taught below is not unkosher, and thinking about the inevitability of Japan immigration (a tenet Debito.org subscribes to wholeheartedly, natch) is actually a very good thing to get young people thinking about.
NJ textbook writers in Japan, get cracking.  Educate people.  Promote Japan's future as a multicultural multiethnic society!  Cover front and back, table of contents, and sample below, excerpted with permission. Click on any page to expand in your browser.  Arudou Debito in Sapporo
UPDATE:
Hello Debito,
Greg forwarded your message to me and noted that some readers have expressed interest in getting evaluation copies.
Would it be possible for you to add a link or a note that evaluation copies can be requested from Intercom Press.
Our website is: http://www.intercompress.com
email: texts@intercompress.com
fax: 092-726-5069
Thank you for writing about the text. We really appreciate it.
Regards,
Edward Roosa
Intercom Press, Inc.
3-9-10-701 Tenjin
Chuo-ku, Fukuoka 810-0001
Fax: 092-726-5069
http://www.intercompress.com
(Click on any page to expand in your browser)

ENDS