mytest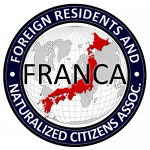 UPDATES ON TWITTER: arudoudebito
DEBITO.ORG PODCASTS now on iTunes, subscribe free
Hi Blog.  What follows is a report from Meat67 (sorry for the delay) on a citywide survey of NJ carried out by Urayasu, Chiba-ken, across the river from Tokyo proper.  Scans enclosed below.  Compare this with an excellent one from Sapporo City that came out in 2008.  Arudou Debito in Sapporo
//////////////////////////////////////////
From: meat67
Date: February 26, 2010
I received the following survey in the mail from the City of Urayasu (see below). While I have many friends and acquaintances in Japan and Urayasu, I sometimes feel alienated from "official" Japan, so I was pleased to see that the city wanted my opinion on their "City of Urayasu Globalization Guidelines". Like most things from governments there are good and bad things about this survey
The first nice thing about the survey was the option of doing it in English and Japanese. For those people whose Japanese is at a low level the option of doing it in English is nice, while the option of Japanese acknowledges that many immigrants, can, in fact, read and write Japanese. That being said, just from my own personal observation from living in Urayasu for the past seven years, the inclusion of Chinese and Tagalog versions as well would have made it even better.
I think there are a good variety of questions on the survey, from the general to the specific. They ask about general life in Japan and dealing with Japanese people. They also ask about specific groups sponsored by the local government. Many of the general questions have an "other" option, which is great. They probably received many responses they were not expecting or had thought of .
I liked question 3 about the resident's association. I have never been asked to join in all the time I have lived here. However, I never went out of my to find out about it either, so when I move next month I will try to find out more about the one in my new area.
Unfortunately, the most general question, 14, has such a tiny box that I had to write really small to fit in what I wanted to say. I mentioned the racism of the police, which, I don't think, the city can do much about. I also told them that the cyclists and drivers here drive me crazy because they don't stop at stop signs, sometimes not even for red lights, drive the wrong way down one way streets, don't look when they cut from the sidewalk to the road, etc…. This, more than anything else, affects my daily life, since I ride my bicycle somewhere almost everyday. I often arrive at work pissed off. It's so bad that a couple of months ago I actually mentioned to a co-worker how surprised I was that for three or four days in a row no one had annoyed me. I have gone so far as to change the route I take to work a few times to see if that would make a difference. My morning commute is more often than not the most stressful 10 minutes of the day.
Like any survey, some of the questions can be open to interpretation. Question 7-1, for example, asks if you have experienced difficulty at work. I circled 2 because I do not always receive all the information I need. However, I don't think this is always because I am not Japanese, but because I am in the part-time teachers room. Even many of the Japanese part-time teachers don't always know what's going on, since they don't attend the morning teachers meetings either.
Question 12 is a little problematic. Even though I am "2. Somewhat satisfied" and so went on to question 12-1, I would have liked to answer 12-2 also. I am dissatisfied with some things as well and would have liked to say what they are. I'm just more satisfied than not.
I would have changed some of the language. Just one example is "foreign nationals (外国人居住者)". Again, from my experience of living here for seven years, the vast majority of foreign nationals I meet are immigrants, so why not call us that? The use of "immigrants" would make me feel much more accepted as a contributing member society rather than just a "guest".
Finally, I have to ask, why do people think it's so hard to separate garbage? The city hall offers a chart with pictures and descriptions of the various types of garbage. Garbage bags have their purpose written in both Japanese and English. I really for the life of me cannot figure out where this "Oh my god, foreigners cannot figure out the super complex garbage rules of Japan" idea comes from. When my girlfriend, who has lived in Japan all her life, moved in with me she spent the first month or two asking me questions about the garbage.
All in all, I am happy with the city government's initiative. I was happy to answer the questions on the survey. In fact, I would be more than happy talk with someone from city hall to answer more questions if they wanted to. I look forward to seeing the results on the city's website.
Meat67 in Urayasu
ENDS