mytest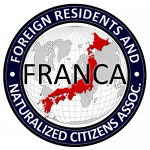 UPDATES ON TWITTER: arudoudebito
DEBITO.ORG PODCASTS now on iTunes, subscribe free
Hi Blog.  Forwarding the below from a friend.  This is just another case of many where we have people (regardless of nationality, but thanks to the Koseki System NJ are in a particularly weak situation, particularly regarding international child abduction) doing awful things to their children after divorce simply because they can, and the authorities will do little or nothing to stop it.  I have of course written on the subject of divorce and post-divorce before (here and here, for example), but let me say at this juncture that for me it has gotten much, much worse over the past few years.  (I still myself have seen my kids maybe six times over the past six years, but now there is a development that someday I'll tell you about, when I have drawn some conclusions and have some lessons from it.)
Meanwhile, I've said it before and I'll say it again because it is a harsh reality:
As Japan's Family Laws stand now, nobody — regardless of nationality — should get married to a Japanese and have kids.  Because if you divorce — or even separate — somebody will quite likely lose them completely.
Read on for yet another example of that.  Even more examples and case studies at the Japan Children's Rights Network here.
Arudou Debito in Sapporo
//////////////////////////////////////
(日本語は英語の後)
(Please forward this message to everyone you know in Japan.)
On 25 March 2010, three children were abducted from their Tokyo home … by their own mother. All three were taken against their will.
Twenty days later, one child escaped, phoned for help, and was rescued. The abusive and mentally unstable mother immediately moved again and changed the remaining two children's names … again.
The police consider this a family issue and will not help. The slow-moving family court has not made one ruling since this occurred, even though a petition for a return of physical custody was filed immediately after the children's abduction.
More than 100 days has already passed, and your help is now being requested to find the abducted boys and return them to the home, neighborhood, school, friends, and family they have known their entire life –a  family that embraces all aspects of their mixed heritage.
Please look over the photos at the website below and keep an eye out for these two boys.
e-mail: Contact@savetheboys.net
If you are tired of these primitive grab-and-runs quietly sanctioned by Japan's ineffective family court structure, help us stop this one by keeping an eye out for these boys so that they can be returned home.
You can help. We NEED your help.
Please.
======================
COLLATED PERSONAL NOTES FROM THE AUTHOR, A PERSON I MET IN PERSON YEARS AGO AND CAN VOUCH FOR HIS CHARACTER:

July 7 and 8, 2010
Dear Debito, I would like to request your help finding my two sons, who will be 10 and 7 this year.
Here's a brief summary of what happened. I have been in Japan for nearly 20 years (married for 17), and I filed for divorce in January when I could no longer accept my wife's increasing abuse of my three children (I have a daughter who just turned 13). My wife has also been in an ongoing affair since 2007. My wife and I began mediation, and at the end of March, she suddenly abducted all three children and disappeared.
After 20 days, my daughter was able to escape and phone for help, and I was able to rescue her. Her mother then immediately moved again. She has taken a leave of absence from work and even changed the boys' names, but we do know that the boys are enrolled in a public school (1st and 4th grade) and are probably in or around Tokyo.
The family court has been incredibly ineffective (they won't even interview the boys, and haven't made any rulings), so after over 100 days of trying to go through the system to return these boys to their home, it appears that the only hope for doing so is to make this happen on our own…
The savetheboys website has been created, and I would like to ask for your help and the help of everyone possible to find these boys so that they can be safely returned to their home. Feel free to blog what I sent you in the initial e-mail or the text below. My only request is that you try to keep my family name out of it for the moment.
I certainly do appreciate your assistance.
Last weekend, my daughter and I saw "The Cove," and the producer began the movie by announcing that their team initially desired to obtain footage by going through all the proper channels, but eventually had to resort to more extreme measures after encountering such staunch resistance.
That is the way I feel about this website and my actions now. I did not want to put that website up, and I resisted for quite a while. After nearly 20 years in Japan, I wanted to let this play out and give the system the opportunity to carefully examine this case and fix an obvious wrong. Instead, so many within the system have exhibited behavior that is unprofessional, biased, and outright dishonest. In particular, I find the dishonesty of so many "adults" to be troubling, and it leaves me with a really bad taste in my mouth.
If I did not actually go out and rescue my own daughter–against the advice of many, by the way–she would still be captive, even though she phoned begging for help.
Thank you again, Debito. Thank you so much. ENDS
//////////////////////////////////////////
(これを日本に住んでいる人、誰でも良いので転送してください。)
お願いします。私の弟達を助けてください。
2010年3月25日、私達3人兄弟は母によって東京都の自宅・・・から連れさられ、私 達3人とも自らの意思で連れていかれたわけではありませんでした。
20日後、私1人は自宅に電話をし、助けてもらいました。その事を知った母親はすぐ に残りの2人・・・を連れて引越しました。
警察はこれを親の問題だと考え、助ける事はしませんでした。のんびりと進む家庭 裁判所は母が子供を誘拐したというのに何も進歩を遂げません。
子供達が消えてから長い3ヶ月が過ぎました。そした今、私の弟達を探してください という事を皆さんにお願いしています。あの弟達を彼らの思い出の家、近所、学 校、友達、それと家族のもとへ戻してあげるのを手伝ってください。
下のリンクから弟達の写真などを見てください。もしかしたら彼らを町で見かける かもしれません。もし見つけたら連絡してください。お願いします。
e-mail: Contact@savetheboys.net
もしあなたが今、この日本の家庭裁判所や日本国にウンザリしているのなら私の弟 達が家に戻れるように探す事で私達に力を貸してください。お願いします。
あなたが私達を助けられます。私達はあなたの助けが必要です。
お願いします。どうか助けてください。
(これを日本に住んでいる人、誰でも良いので転送してください。)
ENDS