mytest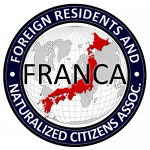 UPDATES ON TWITTER: arudoudebito
DEBITO.ORG PODCASTS now on iTunes, subscribe free
Hi Blog. In line with yesterday's theme of foreign crime (in this case, crimes perpetrated against the foreign), has anyone heard of this case of a questionable death (ruled by police as an accident) of an American in Shinjuku last August in the domestic media? If the reverse were true (a US tourist killing a Japanese), you bet we'd hear about it, and have all manner of people screaming about how tourists are now part of the alleged foreign crime wave we must protect Japanese from.
I hope I don't have to make the argument again that there is a double standard of justice and attention depending on whether the perp or the victim is Japanese or not, like I did in the Japan Times March 2009. Arudou Debito
////////////////////////////////////////////////////////////
FUGITIVES
AMW CASE FILE
Unknown Hoon Scott Kang Killer
Hoon Kang was in a coma for several days after cops say he accidentally fell.
America's Most Wanted Website, courtesy of BG
http://www.amw.com/fugitives/case.cfm?id=75251
The Call
Like any concerned parent, Sung Won Kang was a little worried about his teenage son who would be vacationing in Japan, especially since his son's cell phone didn't have international service to call home.
Nineteen-year-old Hoon "Scott" Kang of Buford, Ga., was teaching English in South Korea. He told his father that he and two fellow teachers had exciting vacation plans in Tokyo. As the trio prepared to leave for their trip, Hoon called his dad from the airport in Seoul and reassured his father that everything would be fine. He would call home if he needed anything.
A few days later, Sung Won did get a phone call: His son was missing.
Police say that the next time anyone saw Scott, he was found lying in an emergency stairwell of 15 Collins Building, a high rise that houses several clubs.
Big Plans, Bright Future
Sung Won Kang and his wife, Geyeon, immigrated from Seoul in 1993. Like many other Korean immigrants, they gave their kids American names: Scott and Rebecca. Sung Won and Geyeon worked hard to give their kids a wonderful life. They were all proud to be living as Americans, but Scott was exceptionally patriotic. In high school, he joined ROTC and wanted to enlist in the Army one day to help serve his country.
In 2009, Scott graduated from North Gwinnett High School and was on track to realize his dream of becoming a lawyer and politician. Scott received a scholarship from ROTC that allowed him to enter the international business program at Fordham University in New York. Since his scholarship only covered his tuition, Scott still needed money for his food and lodging, and times were tight. That's when his father suggested that Scott apply for an English teaching job in South Korea, where instructors from the United States were in high demand. Scott decided it was a great idea – not only would he be able to earn money for school, he could better learn his parents' native tongue. He decided to take a year off from college and to be sure he saved his money, Scott would send his checks home to his dad. Everything was going well, and Sung Won couldn't be prouder of his eldest son. In August, when Scott decided to take some time off, it was supposed to be a week of fun and exploration.
The Vacation
On Aug. 24, Scott and his friends spent their first day in Tokyo taking in the scenery. That night, they went to the Shinjuku District, a place known for its rowdy nightlife. Scott broke off from the group around 10:30 p.m. to wander on his own. When Scott's dad got the phone call from Japan, his son was missing, after he didn't return to his friends.
Later that same day, Minsook Lee, a guardian of one of the men who was with Scott that night, called Sung Won to report that they found Scott — he was in a local hospital, fighting for his life. Police say he was hospitalized after someone discovered Scott, lying in an emergency stairwell of 15 Collins Building, a high-rise that houses several clubs. He was unconscious and blood was trickling from his left ear.
While Scott's parents rushed to Tokyo, Minsook instinctively took photos and video of Scott in the hospital. By the time Scott's parents arrived, he had been in a coma for several days. He passed away the following day.
When Scott's father met with Japanese police, he says investigators showed him surveillance video taken inside an elevator, in the same building where Scott was found. According to Scott's dad, the video shows Kang in the elevator shortly after 11 p.m. with a man in a black hat. Scott apparently made a gesture with both hands out, as if to say "I don't have anything," and the man appeared to punch Kang in the stomach, his father told AMW. Scott was found around 1:30 a.m. in the stairwell between the sixth and seventh floors. Sung Won believed his son was the victim of an attempted robbery, but Japanese police reached a different conclusion.
Sung Won tells AMW that Japanese police ruled it was an accidental death — that Scott had too much to drink that night and fell down two flights of stairs. Scott's family and friends didn't accept that explanation and called the U.S. Embassy, pressing for more solid answers. Eventually, investigators reopened the case.
AMW decided to take the case as well, and John Walsh and his team traveled to Tokyo to shoot the story. Members of the Kang family's church raised money to send Sung Won to Japan, and he participated in the shoot. During that visit, Sung Won was able to meet with Japanese police again, and this time, they had a different assessment. Cops apparently believe that the two men were shaking hands in the elevator. They recently identified the man from the surveillance video as an employee of a bar in the same building, but cops haven't charged him with any crime.
The Kang family is aching for answers half a world away. Family and friends are now trying to help garner support, encouraging people to reach out to their state representatives about the suspicious death of Hoon "Scott" Kang. With America's Most Wanted and its global reach, they're hoping to get some justice. If you can help, call our Hotline 1-800-CRIME-TV. Remember, you can remain anonymous.
Television Airings:
»November 6, 2010
ENDS