mytest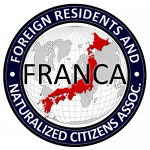 UPDATES ON TWITTER: arudoudebito
DEBITO.ORG PODCASTS now on iTunes, subscribe free
Hi Blog.  Here's an interview I was invited to give in early October with Canada's CBC Radio One, which was broadcast yesterday. Thanks for that, CBC.  Link to where you can listen to it, and the writeup on their website follows:
http://www.cbc.ca/thecurrent/episode/2010/11/16/nov-1610—pt-2-japans-population-crash/
/////////////////////////////////
CBC Radio One, Nov 16, 2010 – Pt 2: Japan's Population Crash, courtesy of MH&P.

The population of Japan is shrinking. Other countries have tackled that problem by embracing immigration. But Japan is an unusually homogenous — some say xenophobic — country. And the idea of a multi-cultural solution is ruffling some feathers.
Japan Population Crash – Sakanaka Hidenori
The population of Japan is officially shrinking. In 2005 — the latest year for which data is available — deaths outnumbered births by 10,000 people. At that rate, Japan's population will drop by more than 15 per cent over the next 40 years. On top of that, Japan's population is an aging one … facing fears of labour shortages and economic stagnation in the world's third-largest economy.
Other countries have responded to declining population pressures by increasing immigration. But Japan is an unusually homogenous nation. And the idea of multi-culturalism ruffles a lot of feathers.
Sakanaka Hidenori spent 35 years urging his country to bring in more immigrants. He is the former Director of the Tokyo Immigration Bureau. And in 2005 he wrote, Immigration Battle Diary, a book that details his own experiences and lays out a manifesto for the future of Japanese immigration policy. Sakanaka Hidenori is now the Executive Director of the Japan Immigration Policy Institute. He joined us from Tokyo this morning, as part of our project, Shift. Our producer, Chris Wodskou provided the translation.
Japan Population Crash – Ito Peng
Arudou Debito was born in the United States. He's a naturalized citizen of Japan. He married a Japanese woman, and they had two daughters. But he's not very optimistic when it comes to increasing immigration to Japan. We aired his story to illustrate why.
For more on how Japan has reached this demographic reckoning… And what the rest of the world should take from it, we were joined by Ito Peng. She's the Associate Dean of Interdisciplinary and International Affairs at the University of Toronto.
/////////////////////////////////////////////
COMMENT:  I come in from minute 11:55.  Sounds like I was in good voice that morning (we got to the radio station in Calgary at 8:30AM for a 9AM interview.  Good thing we did; the interviewer was late, and questions were a bit half-baked; it seemed as if she had forgotten our appointment).
Frankly, I'm a bit disappointed with the contents.  There was a good interactive interview with Sakanaka-san, who deserves it.  Also one with Dr Peng.  But all I got was a short storytelling of the Otaru Onsens Case (and an incomplete one at that — I never got my bit in about how even a naturalized citizen was treated by Yunohana Onsen, so Dr Peng then responds that it's too bad foreigners got treated that way even though it's not an issue of nationality); nothing else from a significantly longer interview.  Instead, we got Dr Peng talking inter alia about naturalization — incorrectly, too; one does not need a sponsor to naturalize (it's not a work visa), one's identity need not be that subsumed, etc.  Why doesn't the person who actually went through the process get asked about it?  Because I'm not sure a question about it was actually prepared for my interview (don't remember; it's been six weeks).  Also would have liked a bit more research done and mentioned on my katagaki too (plenty of people marry and have children in Japan, so I would hope they contacted me because they thought I had something a bit more authoritative to say).
Ah well.  At least the subject of Japan's future and the need for a possibility of immigration was broached.  Thanks for that, CBC.  Arudou Debito